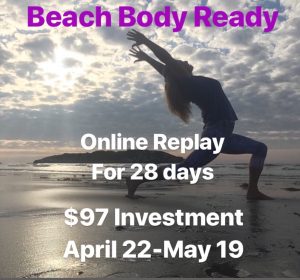 GET YOUR BEACH BODY READY
YOGA BUNNY ONLINE SPECIAL
April 22 – May 19, 2019
ACCESS TO THE REPLAY OF PREVIOUS ONLINE CHALLENGES
INVESTMENT ONLY $97
To get you ready for summer and beach yoga I'm opening up the replay to the 2 previous online challenges.  The difference is that you will be holding yourself accountable with your yoga goals. 
Yoga practices will be intentionally energizing, heart based, focus on shoulders, chest and spine from a steady foundation, pranayama (breathwork) and meditations. They are suitable for all-levels.  Move at your own pace.
Some of the classes and meditations are filmed in the Rocky Mountains, so you can feel like you are on a little retreat with me! Enjoy this FREE MEDITATION ACCESS
To Sum it up here's what you receive:
14 online classes ranging from 45-60 minutes
4 guided meditations approx 7 minutes each
Unlimited access for 28 days
Options to use it as a 7 day challenge and set your own goals (I will not be offering support this time around)
Bonus features such as
Core Boost
Shoulder/Chest/Back engagement exercises
Core Explained
Mini classes
PLEASE SIGN ME UP! $97 INVESTMENT DEAL
Here's what folks are saying from the January and February Online Programs:
"I truly mean it when I said this is the best. It was just what I needed to get back on my mat. Honestly I feel like I am with you at a live class. I have done other yoga stuff on line and didn't like it. You rock Elaine!" Betsy
"Elaine's online yoga classes are a dream. You can get the same light and loving guidance in your own home – at the best time – as you get in the studio or (best of all) on the beach. I have tried many other online yoga programs and, although they are great, they don't compare with having the continuity of a home practice aligned with one's group practice. Thanks for these, Elaine!" – Mary Tess
"Wow…Elaine's '7-day yoga challenge' was the perfect way to start the year! Her online classes were easy to follow and it was great getting to do them in the comfort of my living room – and whenever it worked best for me each day!" – Karen M
"Doing this challenge has helped me prepare my body, mind, and soul for a successful New Year. It is a resolution that I know I will complete. I wake up each morning looking forward to what Elaine has planned for me.♥️" – Michele (side note: Michele completed the 7 day challenge twice!!!)
NOW I REALLY WANT TO DO THIS – PLEASE SIGN ME UP!