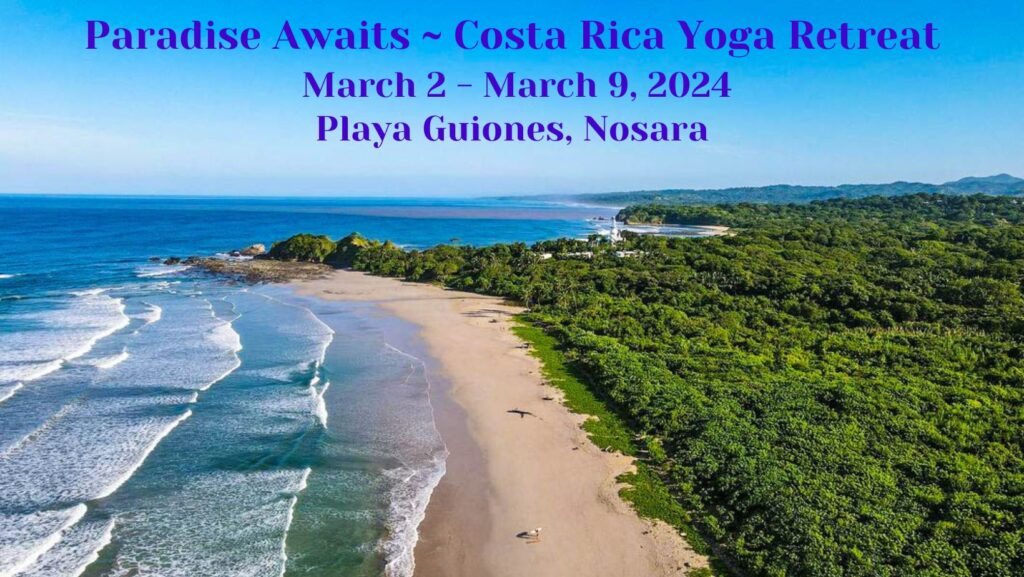 Return to Paradise, Costa Rica Retreat, March 2-March 9, 2024.
After 2 sold out weeks of retreats in 2023, I'm returning again to the laid back surf town of Playa Guiones, Nosara.
It's a stunning long 3 mile sandy beach with awesome waves for surfing and swimming and great for walking. Bask in the tropical air and warm water, and the jaw dropping sunsets.
Get the rhythm of your own nature with expert yoga guidance, meditation and pranayama. Practicing on the gorgeous outdoor yoga deck.
Take time to chill out in a hammock Pura Vida style, to reconnect with yourself, enjoy the abundance of natural beauty, the extra excursions on offer, and absorbing the good vibes of this friendly town. The Costa Rican's are some of the loveliest people you'll ever meet.
What previous retreaters have to say:
"This was my 3rd retreat with Elaine and she does not disappoint.  No detail was left undone, the accommodations were pure luxury, the food out of this world. I love her style of teaching, guiding us skillful, with very helpful modifications and assists. Looking forward to my next adventure with Elaine." – Tracey Ritchie
"This is the perfect winter get-a-way.  Elaine goes above and beyond my expectations for every retreat. She has everything you could possible need taken care of before your arrival, so all you need to do is relax & enjoy.
The food is amazing and the accommodations are unique, private, clean, modern. 
Let's not forget the yoga, Elaine has a way of personalizing the yoga class to the group's needs. 
Her assists are magical, her sound bowls are delightful. I'm a
lready booking my next retreat with Elaine!" – Holly Chiancola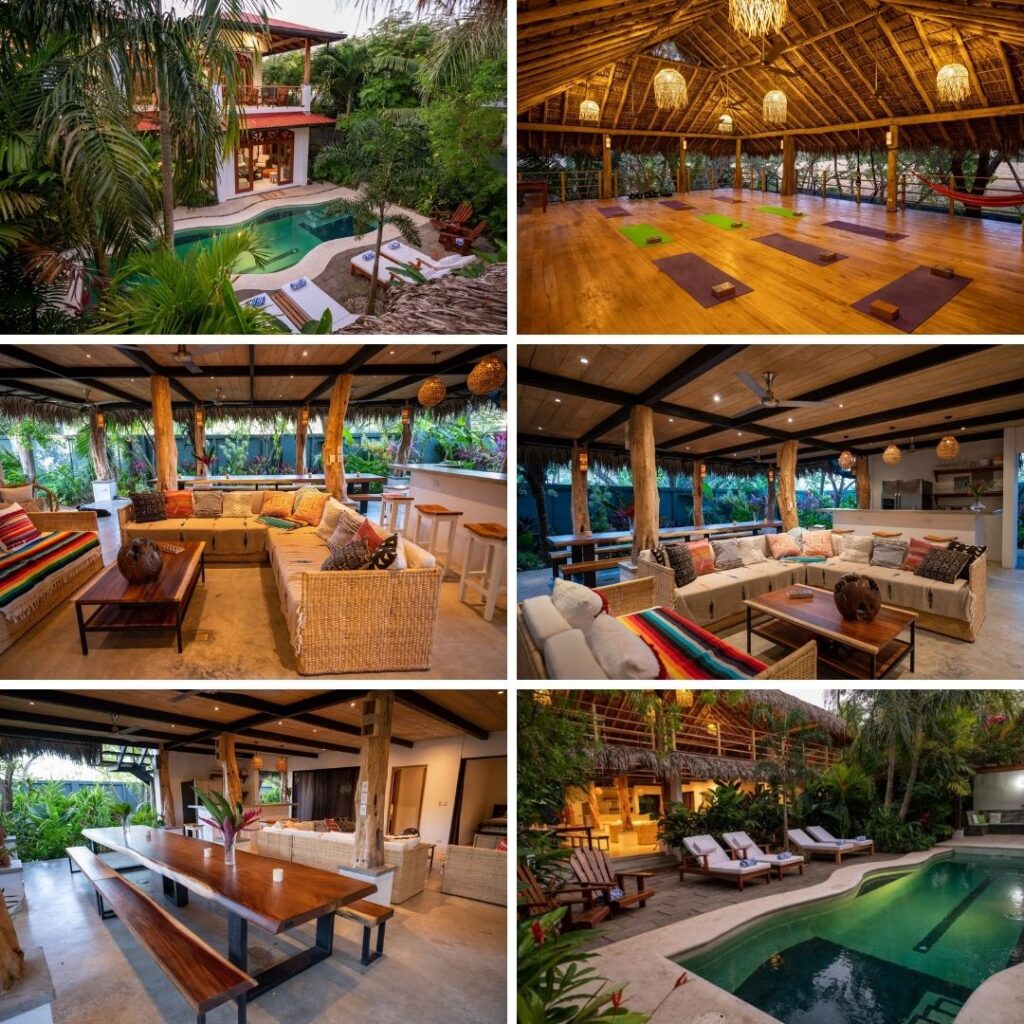 Private Luxury retreat villa
The private luxury villa is designed for outdoor living with really comfortable open-air communal spaces and no interior hallways. You will feel right at home. The villa is immersed in mother nature with a private entrance to the beach which is just a few minutes walk from the villa.
There are 2 main buildings on the property which surround the pool – the main house and the rancho. The main house has 5 bedrooms, kitchen and sitting area. On the other side of the pool in the rancho with 2 bedrooms on ground level, outdoor sitting/dining area.
It has an open-air yoga platform on the 2nd floor of the rancho with beautiful views of the mountains + occasional cows roaming the field.
The wave shaped pool ranges in depth from 3.5-7ft deep and has seating built into the walls. The rooms and living area surround the pool. There are magnificent landscaped gardens all around the property: palms, native fruit trees, beautiful flowering plants & trees.
It is located in Guiones Beach Club, the only gated community in the area. Guiones Beach Club is only accessible to the homeowners and renters in GBC, so it is quiet, private, and secure. The villa is a healthy walk (20 minutes) or short bike ride to most restaurants and town.  
The cuisine is absolutely deliciously prepared by our private local chef. Retreat include 3 meals daily, you will have one dinner out at which is not included. Local restaurants are super too!

To see lots more pictures look at my Costa Rica 2023 Highlights on Intragram: elaineorourkeyoga
Retreat Includes:
7 nights accommodation at safe and secure private villa with exclusive use of the property including the "Endless Pool"

3 delicious meals daily (except for one evening meal), snacks, tea/coffee

2 daily all-level yoga classes. Morning class includes meditation, pranayama, all-level flow, mantras. Evening class is gentle and restorative. 

Beach Towels

Assistance with booking excursions, ground transportation, surf lessons etc

 
Does not include:
Flights, ground transportation, one evening meal out, body treatments such as massage and energy healing, beverages. 
More testimonials:
"The Villa was beautiful, the chefs were amazing, every meal was delicious.  Most importantly the yoga…I enjoyed each class and was able to get connected to my practice again, trying things I've been to scared to do. Thanks for bringing my confidence back! You are an amazing teacher. I feel rested, recharged and restored. Gracias!" – Carmela
"I loved the trip. The fabulous villa, the magnificent beach, surrounding area & of course the beautiful food.  The yoga classes were so very enjoyable, you have to cater for all levels & yet you make us all feel so inclusive, thank you. You organized everything so well & took great care of us." – Angela
Accommodations:
All bedrooms have 4 Seasons Hotel mattresses, remote operated air conditioning, ceiling fans, the fastest wifi in Costa Rica, some rooms have digital safe, + deadbolt lock. Every bathroom has luxe, rain shower heads (as do the outdoor showers).
There are different rooms open to participants to book. Book early to get your room of choice. 
MAIN HOUSE
Master King Suite with Private Bathroom. A beautiful large room, located upstairs with it's own private balcony and sitting area. Private bathroom.
$2600 per person based on double occupancy.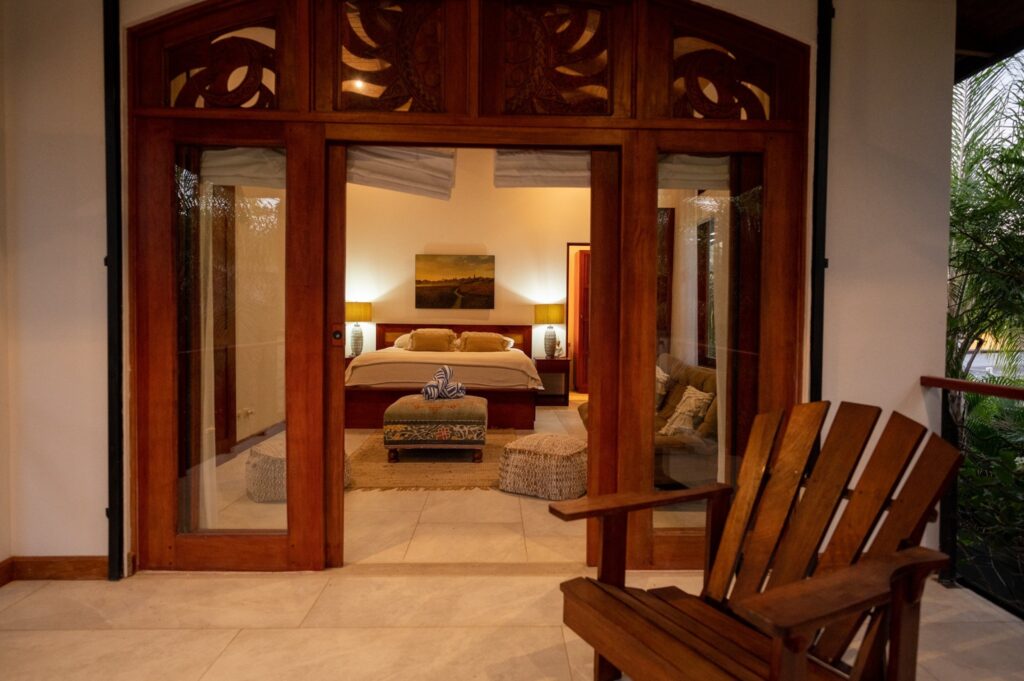 2 Queen Bedroom. Upstairs with private bathroom.
$2500 Per person based on double occupancy. (This can also be booked for 3 or 4 people sharing beds).
$2300 Per person based on triple occupancy
$2200 Per person based on quad occupancy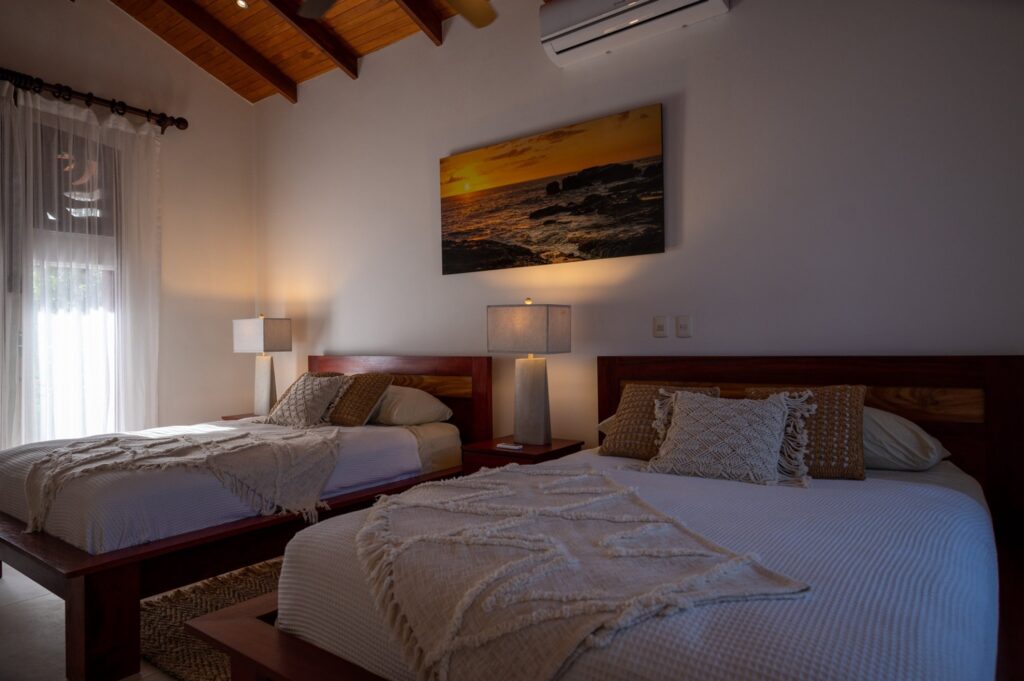 2 Queen Bedroom. Downstairs with private bathroom.
$2500 Per person based on double occupancy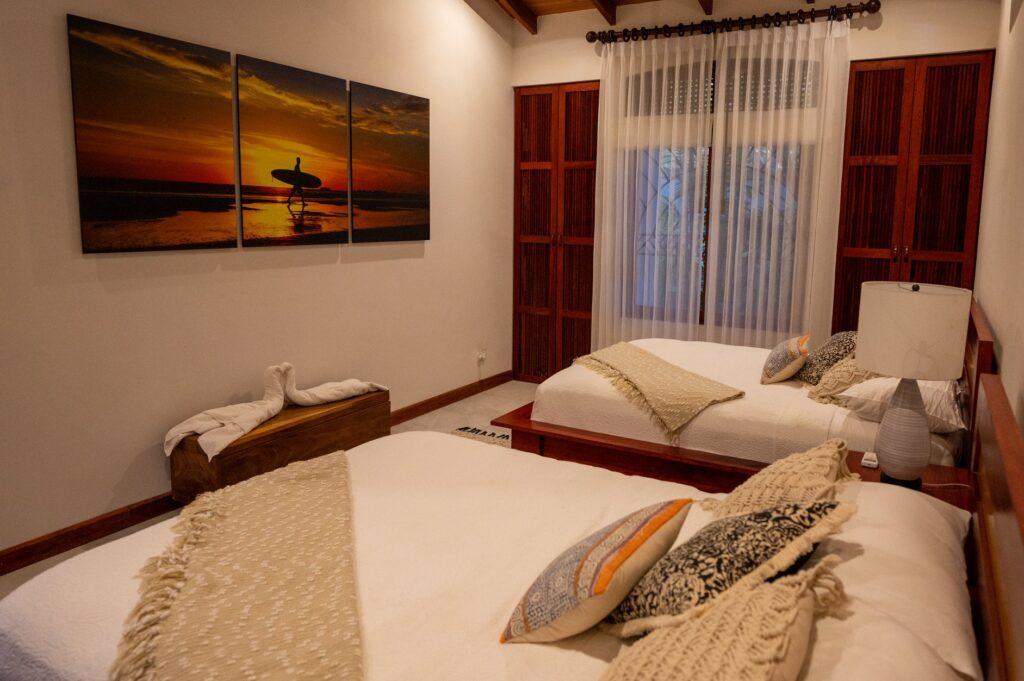 2 Queen Bedroom. Downstairs. Shares bathroom with bunk bedroom.
$2300 Per Person based on double occupancy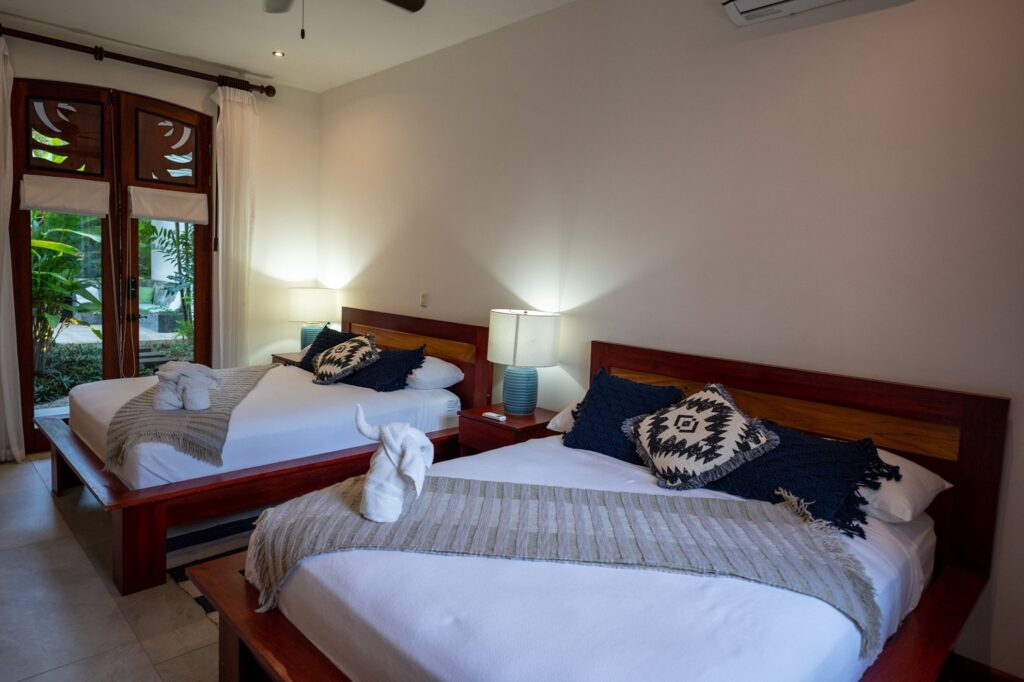 The BUNK ROOM – 2 sets of bunks – 4 beds in total. Downstairs, shared bathroom with a double room. As with all bunk beds, there is a ladder to get to the upper bunk. 
$1950 per person based on quad occupancy
$2075 per person based on triple occupancy
$2225 per person based double occupancy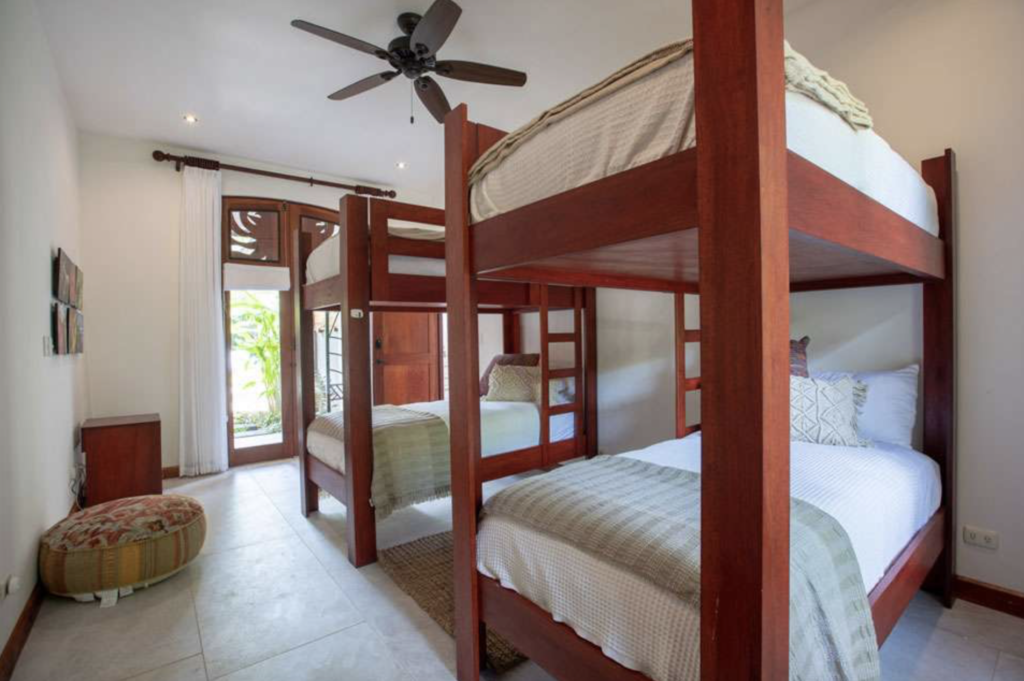 RANCHO AREA
King Bedroom with shared bathroom. Downstairs under the yoga shala with sliding door. Shares bathroom with double twin bedroom.
$2250 Per Person based on double occupancy
$2850 Single occupancy (this is the only room that can be for a single)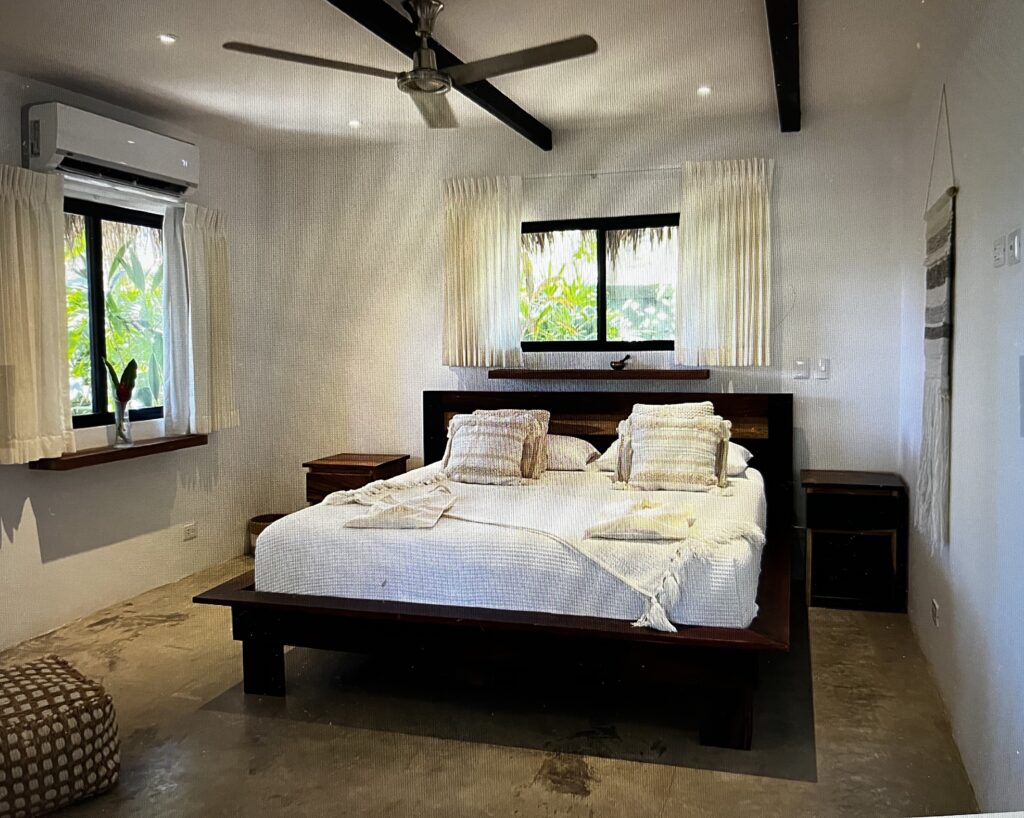 2 Twin Bedroom with shared bathroom. Downstairs, under the yoga shala with sliding door.  Shares bathroom with the king bedroom.
$2250 per person based on double occupancy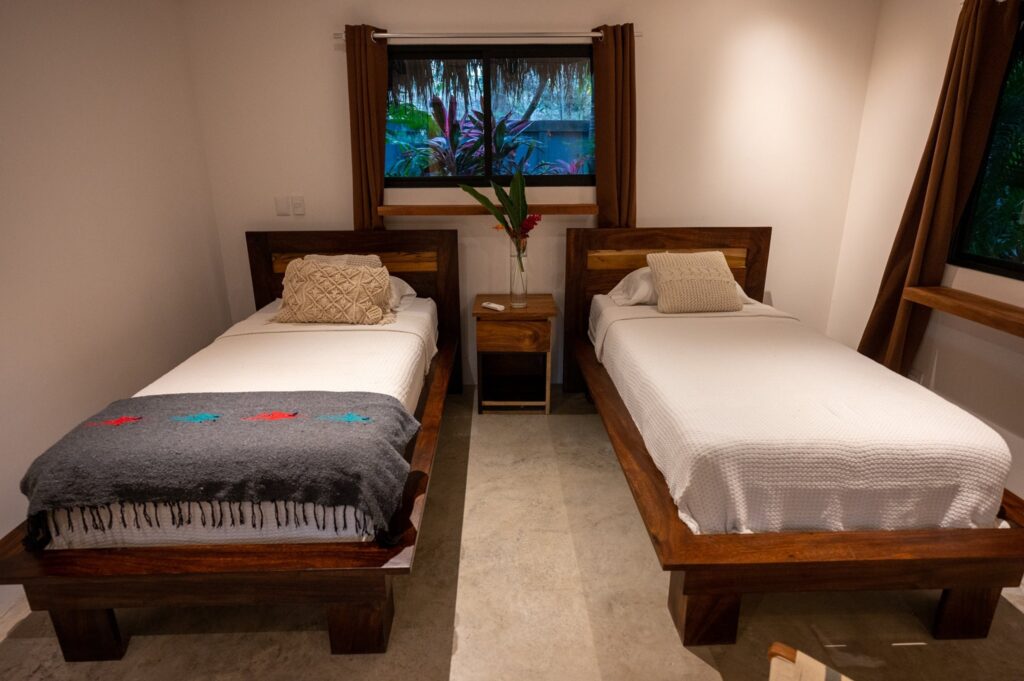 Full Disclosure

:
Nearby construction is possible due to the increasing popularity and development in Nosara and Playa Guiones. This is both out of control of Elaine and the villa management group. There are neighboring villas.
Extra Activities and Excursions (excursions will be booked ahead of time and are not included in the retreat price)
Surfing/ Sunset, Moon, Star Gazing/ Wildlife Watching (monkeys, birds, cows)/ Massage and Energy Healing Services/ Pink Island Snorkeling Boat Tour/ Mangrove River SUP/Kayak Tour/ Tidal Pools/ Biking/ Exploring/ Zipline/ ATV Tours/ Journaling/ Napping/ Local Shopping
Transportation to and From the Villa
Liberia Airport is the closest airport, approximately 2.5hr drive to the villa. This is a developing country so some roads are unpaved and bumpy.
Elaine will help coordinate airport transfers, (you can discuss options with Elaine before booking flights). Airport transfer cost is not included in retreat price.
Check in is 4pm on arrival date and check out is 9am on departure date.  
It's highly suggested to book the Non-Stop flight on JetBlue (from Boston & JFK).
It is possible to fly into San Jose airport and book a puddle jumper flight from there to Nosara airport. Nosara airport is about a 20-30 minute drive to the villa. 
Getting Around
The villa is a healthy 20-30 minutes to shops and restaurant. This is the tropics so it is hot for walking. You can rent an ATV, golf cart, or bike to get around Playa Guiones. You can get Tuk-Tuk (little taxi's which are approximately $8-$10 each way to the little town). 
Registration & Payments
There is a strict non-refundable policy as retreat group is small with a maximum of 16 participants.
$600 non-refundable registration fee to book your space. 
2nd payment due by September 1, 2023 – it is non-refundable after Sept 1st payment
Final Payment due by November 15, 2023 – non-refundable
Please contact Elaine directly to book your room and make payment arrangements or if you have any questions. 
Email: elaine@elaineorourke.com
***It is HIGHLY suggested to have your own travel insurance such as "cancel for any reason" in case you need to cancel last minute due to unforeseen circumstances. Make sure you read what your insurance covers you for. You need to take full responsibility for your own health or if any health issues arise. Again, payments are non-refundable and it is not the responsibility of Elaine to refund for any part of your trip. This is not a resort nor a hotel.***
What to Expect on a Yoga Retreat?
A yoga retreat is the perfect combination of traveling without the hassle of figuring out all the logistics. This retreat is at a private villa which is in a small neighborhood and within reach of a small surf town. We are the only people staying at this villa for the week.
Everything on retreat is optional (even the yoga). You decide how much you wish to participate. But there is the healthy focus for your mind and body with twice daily practice offerings. It is a super opportunity to delve deeper into your yoga practice and to understanding yoga and meditation on a different level. Times of classes may change depending on the group and activities.  
Breakfast, lunch and dinner are included in the retreat (food is amazing). We eat together at the outdoor dining table. Alcohol is permitted but respectful consumption and behavior is required. Days start early so usually by 9pm we are all in bed! 
Enjoy free time to relax or to explore the town or extra activites. Elaine will help co-ordinate any extra activities you wish to do such as surfing, ziplining, boat tours. These need to be decided ahead of time and more details are given when registered etc.
Aside from yoga practice which is guided by Elaine, participants are responsible for what they do with their free time or what extra activities they do. Surfing is great here, a consistent beach break at any time of day. (you will find Elaine out surfing between yoga sessions!).
Who is it suitable for?
Single travelers, friends, couples are all welcome. If you are a go-with-the-flow type of person who has a good sense of humor, is up for a bit of adventure then this retreat should be a good fit.
However, if you know you are high maintanence, if you need someone to do things for you all the time, if you are use to staying at hotels, resorts, high end places, if you expect to be entertained all the time then this most likely is not the trip for you!
Other things to note:
Costa Rica is in Central America. There can be power outages and WiFi can be spotty.
Toilet paper can not be flushed. It goes in waste paper basket (this is typical in most of central and South America).
Tap water is mostly ok to drink but you may prefer to use bottled water.
You are coming to a private villa. This is not a hotel, this is not a resort. You are responsible for yourself and for what you do in your free time. 
You are coming on a yoga retreat where we try to be as eco-friendly as possible.
There will be house-keeping on Wednesday. 
The villa is fully cleaned but nature can visit anytime.