WILD & MAGICAL IRELAND RETREAT – SOLD OUT
Yoga, Sound Healing & Exploring the West of Ireland
Oct 13-19, 2023 (waitlist only)
Discover the magical beauty of my home country, the dramatic scenery, the ancient history of the Wild West of Ireland. You will understand the allure of the land, the inspiration for so much creative talent. Enjoy the contrasts of the landscapes from the Cliffs of Moher to the Connemara countryside, castles, abbeys, and of course the pubs and music.
This retreat will be a combination of Yoga & my renowned Sound Healing experience which will help connect you to the special energy of the Emerald Isle.
Retreat Venue: Restored Country Manor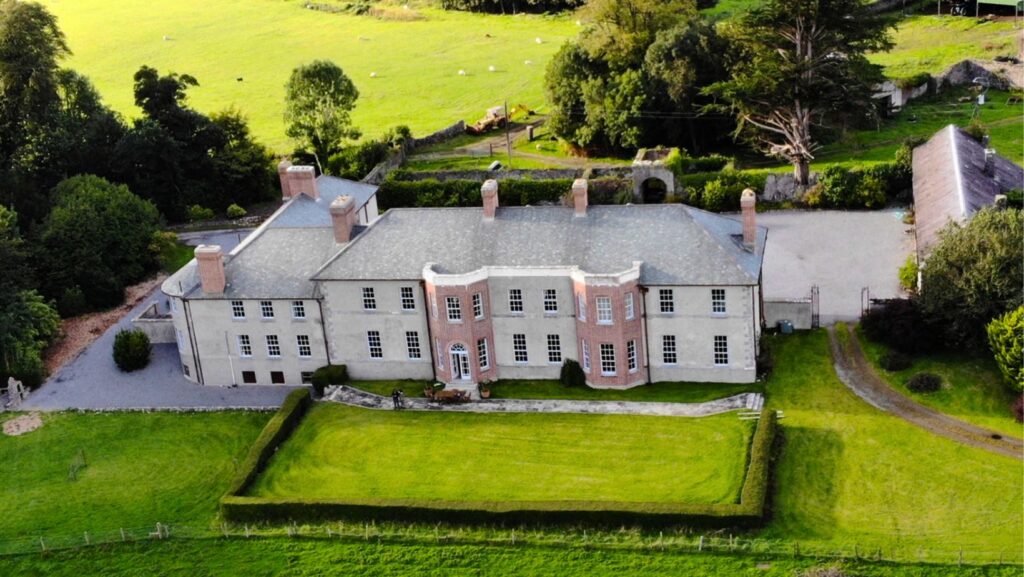 Our yoga retreat venue is a wonderfully restored country manor dating back to the 1700's. It is steeped in history and charm and lends itself as an ideal place to recharge, explore, and connect with nature.
I've been searching for somewhere like this so that you can have some of that "old world feeling" of my home country. It is centrally located in the Galway countryside, about 25 minute drive from lively Galway City, and with easy day access to some of the best known, must-see sights of Ireland. 
As you might imagine, the living area and accommodations are in large rooms with lots of character, fireplaces and comfortable areas to lounge in.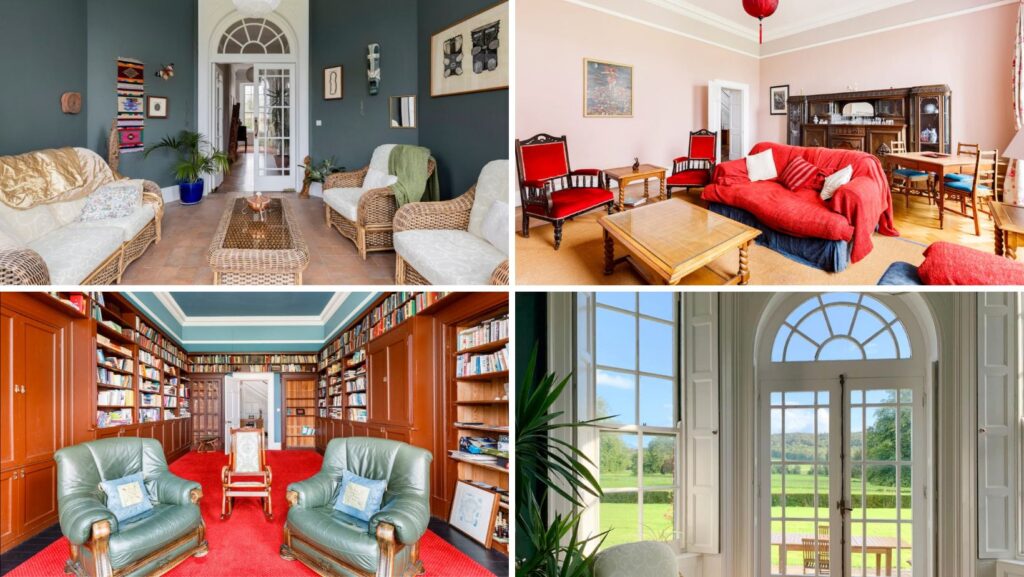 The yoga room was the old ballroom with beautiful floors, lovely high ceilings and large windows. All mats and props are provided.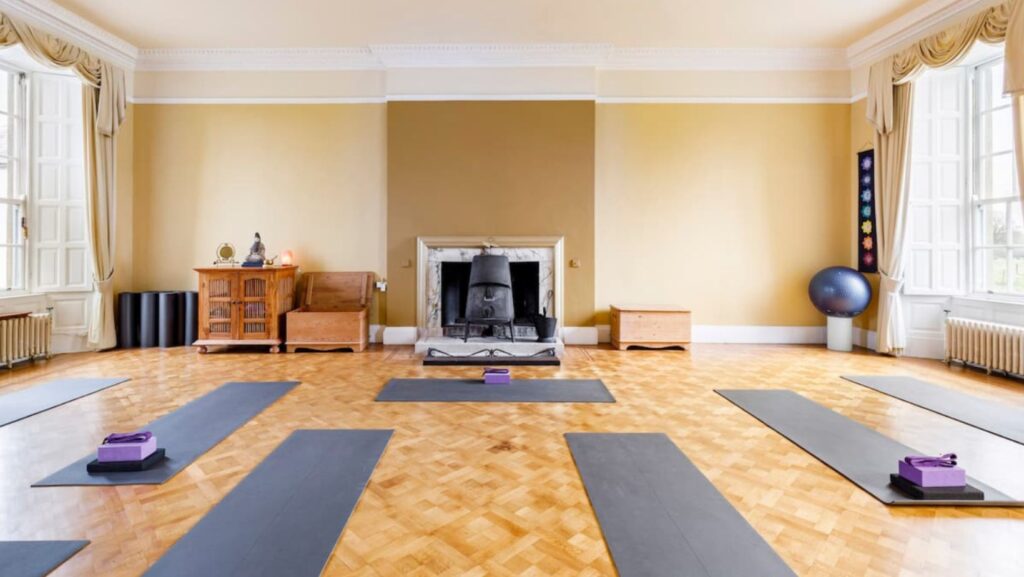 Knockma Forest neighbors the house. The woodland is filled with fairy folklore and legend. Atop of the summit of the hill are two Cairns believed to be the burial grounds of Queen Maeve of Connacht and of the fairy king Finvarra. It boasts beautiful views.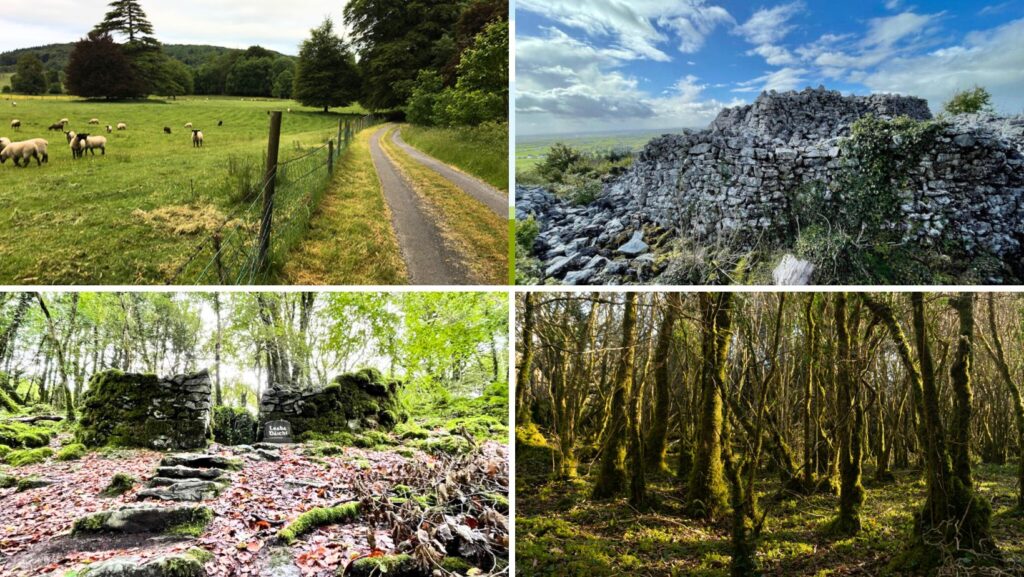 Location
Surrounded by the green fields which Ireland is known for, the Manor is centrally located in the quiet and peaceful countryside.
This is a great base for exploring Co Galway, the Connemara region, Co Clare, the Burren and the Cliffs of Moher. 10 miles from Tuam, a large country town and approximately 25 minutes from Galway City.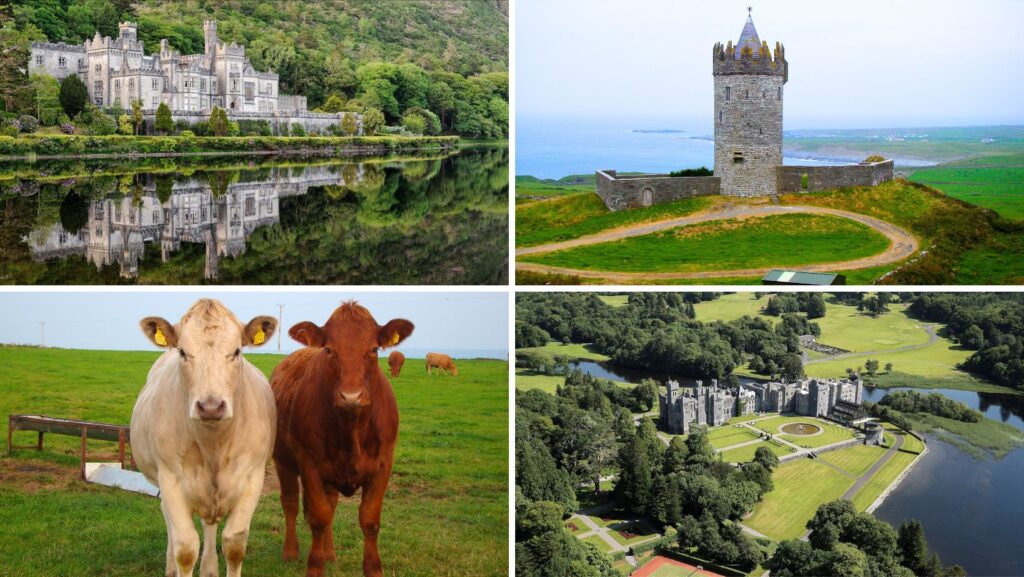 RETREAT INCLUDES:
7 days, 6 nights accommodation at Country Manor House

Early check in on Oct 13th if needed

Twice daily yoga and sound healing including meditation and breathwork. On excursion days there may be a longer morning practice or the evening practice/sound healing may be after dinner.

Daily Hearty breakfasts, 5 dinners, 5 lunches or packed lunches for day trips, tea, coffee

3 Day Trips:

Cliffs of Moher, stopping in Doolin village, traversing through the Burren landscape. Weather permitting hiking some of the spectacular Cliffs

Connemara, Cong, Ashford Castle, Kylemore Abbey, Cliften, Roundstone.

Galway City self exploration. This will be in the afternoon to early evening so you can also catch an early music session at a pub & grab some dinner

Help with booking airport transfers from either Dublin or Shannon airports (transfer price is not included)
Accommodations
There are a variety of different bedrooms to suit people traveling together, couples and single solo travelers.  
Kirwan Room
The Kirwan Room, named for the historic Kirwan family that built and occupied the House for 300 years, embodies the nostalgic lifestyle found within distant and faraway places.
The Kirwan Room hints at these travels within its cosy yet, very spacious area. Accommodation is for 3 guests with crisp Egyptian cotton bedding. Sitting area with couches, Large ensuite bathroom.
2 single beds
1 double bed
€2050 / $2295 per person based on triple occupancy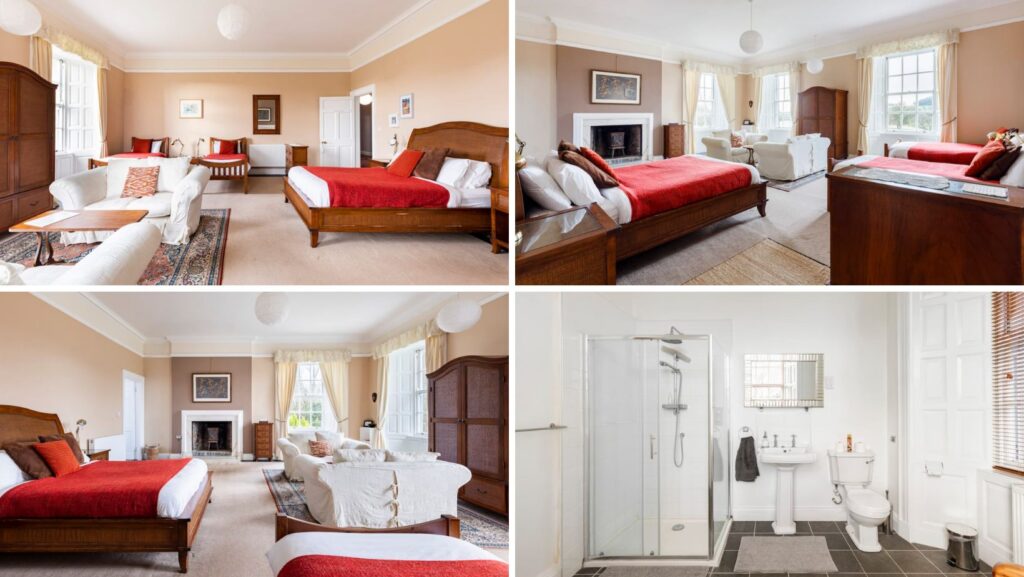 King's Room
Contemporary sources tell us that King Edward and Mrs. Simpson once stayed as guests in this room during a time of delicate decision. And of course, not to forget 'Fin Bheara' the King of the Daoine Sidhe in Irish folklore who inhabits nearby Knockma Hill.
The room offers an allusion towards the past regal status of the three Kings. With a full ensuite, early 20th century furniture, double bed and a single bed, crisp Egyptian cotton bedding, enjoy the opportunity to gaze and reminisce over the historical and gentle pastureland towards Knockma.
1 Double Bed
1 Single Bed
€2050 / $2295 per person based on double occupancy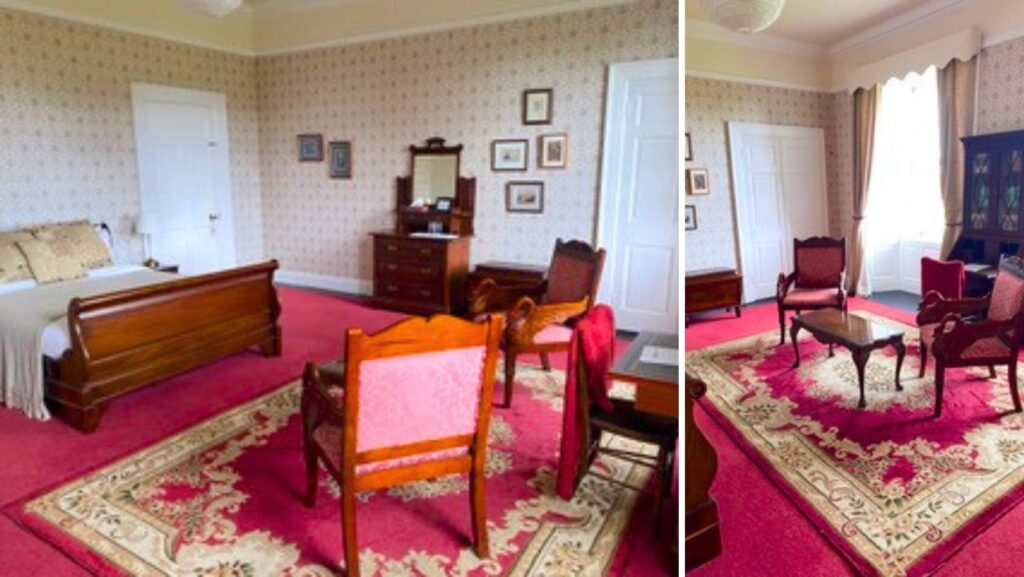 Murphy's Oriental Room
Murphy's Oriental Room overlooks the ancient Knockma Hill and Forest. The room is a reflection only, of the attention to detail that generated from the Kirwan's curious diversity in establishing trade in locations as distant as the Far East and West Indies.
The newly refurbished room has an ensuite and double size bed or 2 single beds, with crisp white linen. 
1 Double bed OR 2 Single beds 
€2050 / $2295 per person based on double occupancy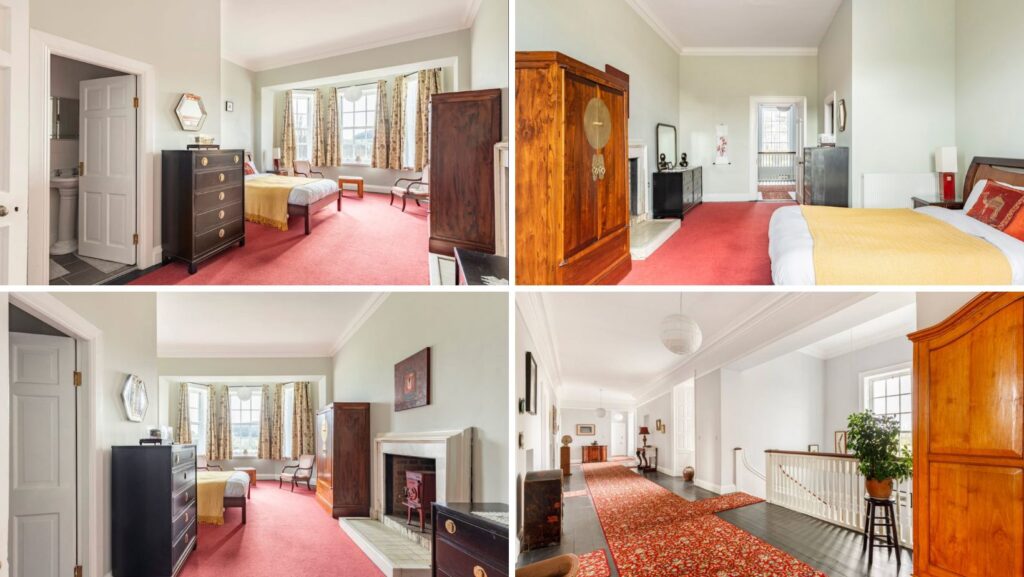 Friar's Room
Looking out and towards Knockma Hill, the Friar's Room recalls the name of a famous horse owned by the Kirwan Family. He was the talk of the racing community in Galway. In a gallant and magnificent effort he won a particularly historic race. For John and Mary Kirwan, this was a race that literally saved the family from ruin and launched the Kirwan name to rest evenly and fairly in Galway history.
With the aspect of Knockma watching serenely, the ensuite room with its sleigh bed and furnishings invites you to relax within the Hidden History of Rural Ireland. Enjoy the shared sound of silence and the reminders of where our own histories dwell.
1 Double Bed with EnSuite bathroom
€2050 / $2295 per person based on double occupancy
€2600 / $2900 based on single occupancy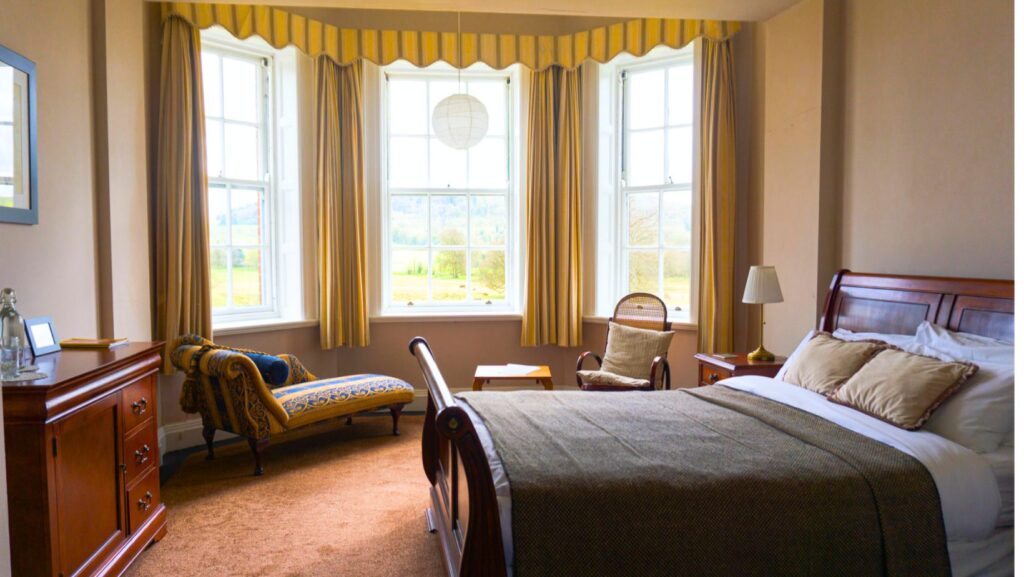 O

ak Room
The Oak Room is a very large dormitory type room with 6 single beds, couches, private bathroom and powder room across the hall. Enjoy the opportunity to gaze and reminisce over the historical and gentle pastureland towards Knockma.
Contemporary sources tell us that King Edward and Mrs. Simpson once stayed as guests in this room during a time of delicate decision. And of course, not to forget 'Fin Bheara' the King of the Daoine Sidhe in Irish folklore who inhabits nearby Knockma Hill.
€1850 / $2075 Per person based on 5-6 people sharing
€1950 / $2185 Per person based on 4 people sharing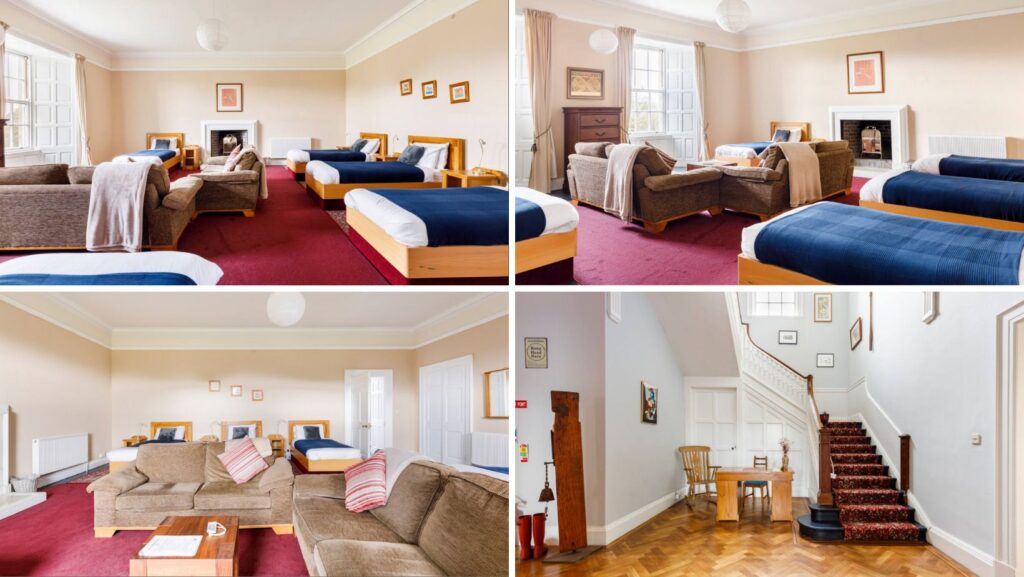 Apartment Lower
Situated on our west wing, the Lower apartment has 2 bedrooms with accommodation for up to 4 adults.
It is beautifully decorated, comfortable, cosy and welcoming with high quality orthopaedic mattresses and crisp white Egyptian cotton.
Bed Room 1      2 x Single beds
Bed Room 2      1 x Queen bed
Spacious bathroom
Apartment has a full kitchen
€2375 / $2660 Per Person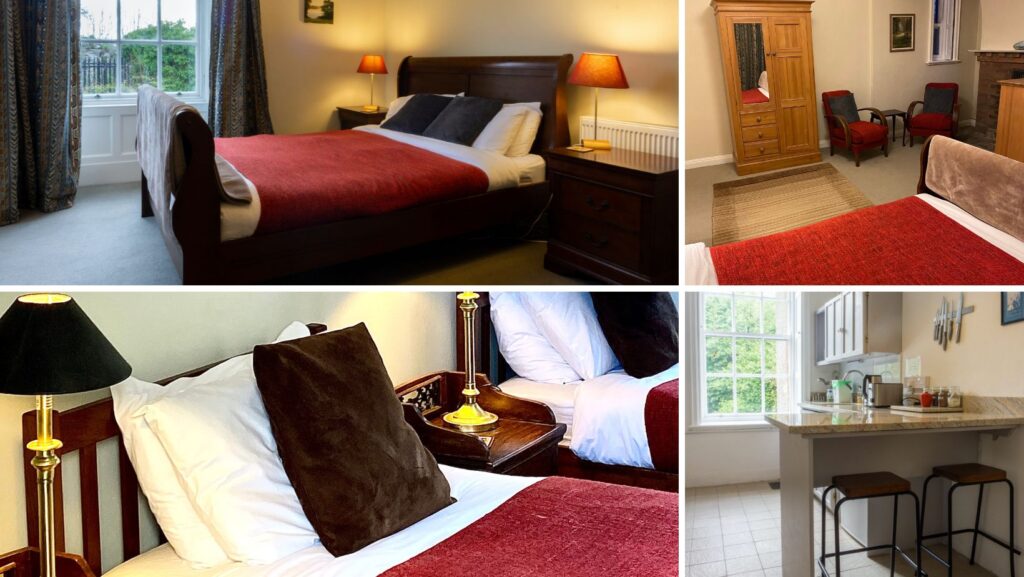 Upper Apartment
Situated on our west wing, the Upper apartment has 2 bedrooms with accommodation for up to 4 adults.
It is beautifully decorated, comfortable, cosy and welcoming with high quality orthopaedic mattresses and crisp white Egyptian cotton.
Bedroom 1 x 1 Queen bed 
Bedroom 2 x 1 Queen Bed
Spacious bathroom is shared between the 2 bedrooms 
Apartment has full kitchen
€2375 / $2660 Per Person Double Occupancy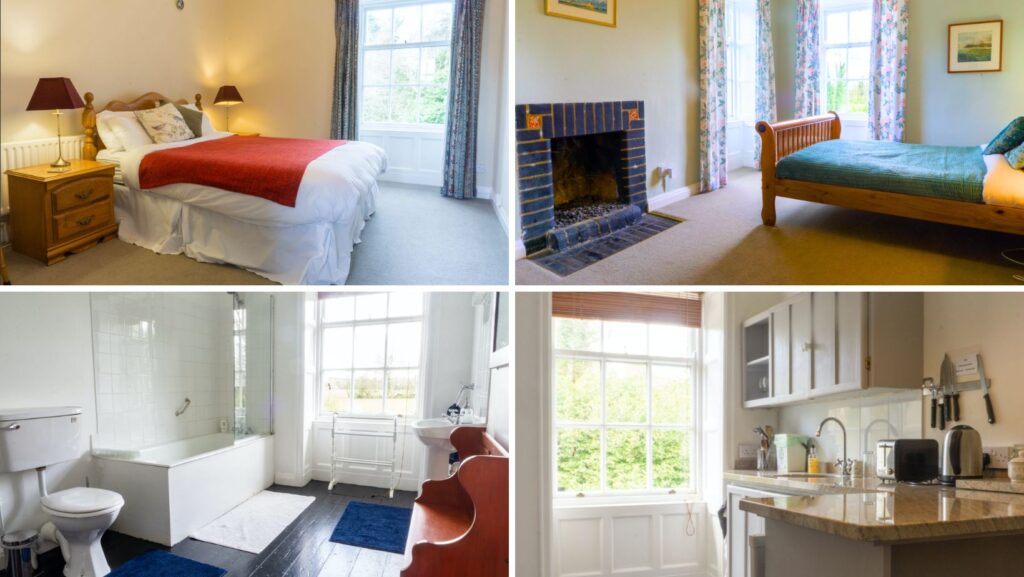 Included in the Retreat price are 3 Day Trips via coach:
Galway City self guided on the Saturday. We will head into Galway in the afternoon through the early evening. Take time to explore the City, the Quays, shops, pubs and sights of Galway. Find some local traditional music and enjoy dinner out. Suggestions will be given. This is the only evening that dinner is not included

The iconic Cliffs of Moher & the Burren. We will traverse through the Burren landscape which is very unique with some stops along the way. Weather and time permitting we will hike a few miles along the Cliffs (or you can explore around the visitor center). We will stop into the little town of Doolin for refreshments!

Co. Galway & Connemara Region in all her beauty and full of contrasts. Our tour will take us to  Cong and the Abbey ruins, a visit to the grounds of the very "posh" Ashford Castle hotel, through the beautiful lakes, the magnificent Kylemore Abbey, the seaside towns of Clifden & Roundstone and along the coast.
Registration & Payments
There is a strict non-refundable policy as this is a private venue for the retreat group .
€850 / $950 non-refundable registration fee to book your space. 
Final Full payment is due July 1st 2023. This is non-refundable.
Please contact Elaine directly to book your room and make payment arrangements or if you have any questions. 
Payments from within Europe are Euros and can be done via Bank Transfer.
Payments from the USA are US Dollars. 
Email: elaine@elaineorourke.com
***It is HIGHLY suggested to have your own travel insurance such as "cancel for any reason" in case you need to cancel last minute due to unforeseen circumstances. Make sure you read what your insurance covers you for. You need to take full responsibility for your own health or if any health issues arise. Again, payments are non-refundable and it is not the responsibility of Elaine to refund for any part of your trip. This is not a resort nor a hotel.***
About:
Connemara – Wild at heart
At times austere, at times sublime, Connemara is a place of legend, folklore and profound beauty. The late writer and cartographer Tim Robinson spoke of the landscape's "huge, luminous spaces", and it's no surprise that artists and photographers, poets and playwrights have all found inspiration here.
Bounded by the Atlantic and set within a particularly scenic corner of County Galway, the region is famous for its wild terrain and soft colors. Rust-colored bogs are dotted with polished grey-blue lakes; old dry-stone walls are threaded over hills; and coral beaches, sandy bays and little harbors are edged by an ever-changing ocean.
Connemara is not just about the landscape, though – it's about the Irish language, cherished by the locals. It's about the charm of towns and villages such as Leenane, Roundstone, Clifden and Letterfrack. It's about the ponies, the music, the pure flavors of local food. It's about as good as it gets.
One of Ireland's favourite visitor experiences, the Cliffs of Moher tower up to 214m over the Wild Atlantic Ocean. Walk the safe, paved pathways and view the famous cliffs on Europe's Western frontier. Enjoy the visitors centre and scenic coastal drive from CastleHacket House.                                                            
The Cliffs of Moher, the most famous cliffs in Ireland, will leave you awestruck, creating memories that will stay with you forever. The natural beauty has inspired many artists, musicians and poets for generations, as well as absorbing scientists and geologists.
The Burren 
The vast, moon-like Burren in County Clare is one of Ireland's most compelling landscapes. Here, cool grey rock etched with crevices and cracks tumbles down to the wild blue Atlantic Ocean. The result is one of nature's most extraordinary phenomena: a huge rocky pavement dotted with rock formations, caves and fossils, as well as an incredible array of flowers, from native species to Arctic, Alpine and Mediterranean plants.
Formed millions of years ago beneath long-forgotten tropical seas, the limestone landscape of the Burren has led to a form of farming that is hardy, with a history that dates back over 6,000 years. The ancient tradition of 'Winterage' – allowing cattle to graze the hills in winter – continues to this day, clearing the ground of tough grasses and making way for plant life to flourish come springtime.
For such a rocky place, the Burren has a poetic beauty that has captivated the hearts and minds of poets, painters, artists and writers. You'll feel it as you walk along butter-colored Fanore Beach, backed by a bare limestone hill and lapped by the Atlantic Ocean. You'll feel it as you walk over terraces of rock that cascade down to the sea, or as you gaze at the gravity-defying Poulnabrone Dolmen, built over 5,800 years ago and set within this rocky terrain.
Galway City
Galway is one of the brightest and most intriguing jewels of the West of Ireland. It marks the halfway point on the Wild Atlantic Way and is the only city on the entire 2500km route. The city is wild and bohemian, and at the same time full of culture, artistry, exceptional food and music. As well as being a popular seaside destination with long sandy beaches, Galway is also a thriving and cosmopolitan city centre. It is always a joy to explore with its wonderful cobbled streets, colourful shop facades, and its offbeat café/bar culture. Ireland's great traditions of hospitality have their place in the city too, with turf fires and traditional music featuring in many of the city's pubs. 
Transportation to other hikes and areas can be arranged on our "off days".
Afternoon Tea can be arranged at Ashford Castle; Boat trip on Corrib Lake; visit the Falconry at Ashford Castle; more time in Galway…
But you may want to enjoy relaxation time, get a massage or energy healing session, or sit down with a book!
What to Expect on a Yoga Retreat?
A yoga retreat is the perfect combination of traveling without the hassle of figuring out all the logistics. This retreat is at a country manor, with a very small village nearby, yet just 25 minutes drive to Galway City and 10 minutes from Tuam. 
Everything on retreat is optional (even the yoga). You decide how much you wish to participate. But there is the healthy focus for your mind and body with daily practice offerings. It is a super opportunity to delve deeper into your yoga practice and to understanding yoga and meditation on a different level. Times of classes may change depending on the group and activities.  This retreat also includes sound healing experiences.
Most meals are included, except for 1 evening out in Galway. There will be packed lunch sandwiches on 2 of the trips. Alcohol is permitted but respectful consumption and behavior is required. 
Enjoy free time to relax when we are not doing trips. Massage and energy healing sessions can be booked.
Aside from yoga practice which is guided by Elaine, participants are responsible for what they do with their free time.  Elaine can help book taxi's for extra excursions into Galway and 
Who is it suitable for?
Single travelers, friends, couples are all welcome. If you are a go-with-the-flow type of person who has a good sense of humor, is up for a bit of adventure then this retreat should be a good fit. If you want to have a unique experience, be open to new experiences then sign up!
However, if you know you are high maintainence, if you need someone to do things for you all the time, if you are use to staying at hotels, resorts, high end places, then this most likely is not the trip for you!  
How to get here:
From USA: There are non-stop flights from several USA cities into both Dublin and Shannon airports. Early check is available for everyone. Flights from the USA are overnight. You will depart evening of October 12th to arrive the morning of 13th into Ireland. It is about a 6 hour flight from northeast USA. 
Dublin airport group transfer will depart for retreat venue around 10.00am (most US flights arrive in around 8.30/9am. There are also flights that arrive in very early so I suggest booking the flights that arrive in around 9am instead.)
Return group transport back to Dublin on October 19th will depart retreat venue at 10am. Make sure you book late afternoon flights back to your home destination. 
From Europe: you can fly direct into Dublin or Shannon airports from most European cities.
1 hour from Shannon Airport
2.5 hrs from Dublin airport
Elaine will arrange airport transfers (price not included in retreat).
Car rental is advised if you wish to explore a lot and independently but 3 day group excursions are included, sight seeing and hiking.  
Extend Your Stay
I have purposefully ended the retreat on Thursday October 19th so that you can spend extra time exploring other areas of Ireland. You may wish to stay longer in the West of Ireland or elsewhere or go back and explore Dublin and surrounding areas.