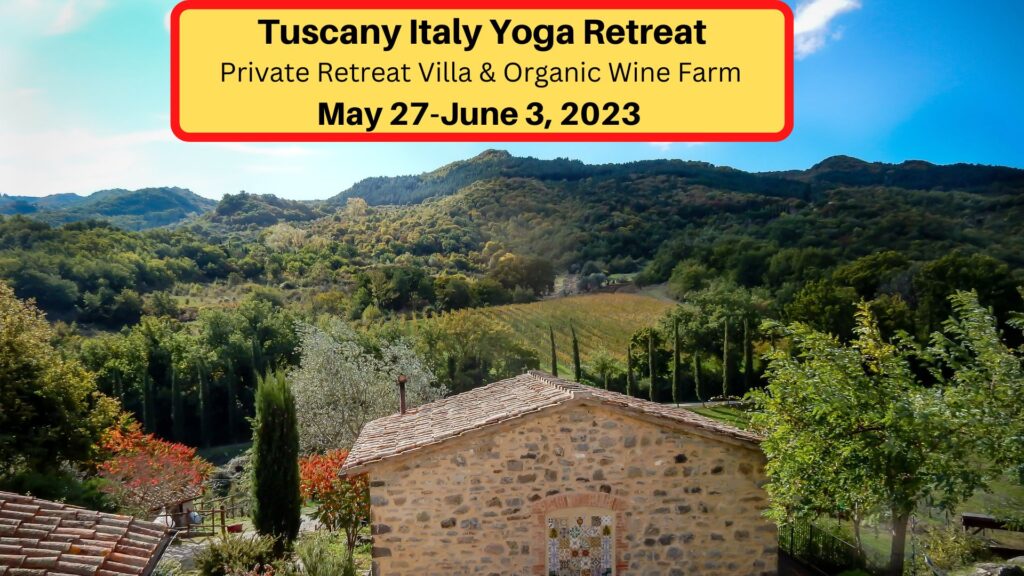 I am so in love with this retreat venue "Le Pianore", the people, the land, the culture, and hence why I'm returning for a fourth time! The energy from the expansive property immediately allows you the space to unwind and to slow down. There is magic in the air which exudes peacefulness and tranquility. Couple that with the most delicious food, skillfully guided yoga and meditation practices, ancient history, which all makes the perfect recipe to feel completely revived.
Le Pianore Retreat Villa and Organic Wine Farm is in the beautiful and enchanting Tuscan Maremma region of Italy.  It is cradled between the medieval hilltop towns of Montelaterone and Monticello Amiata. Surrounded by woodlands, vineyards, olive groves and mountain streams, it is a private haven ideally suited for yoga and walking with its spectacular views and untouched landscapes.  The cuisine is exceptional as much of the food is sourced from their organic gardens. Their award winning wine is from their own vineyard which is also on the property.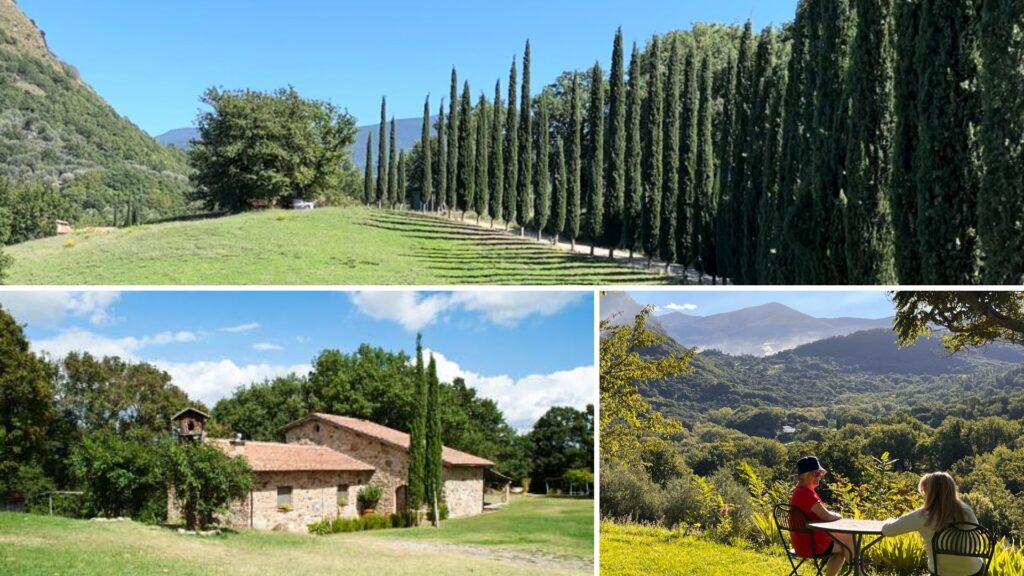 Everyone who comes on retreat here feels the same way as I do and our hosts have the biggest hearts and the warm Italian welcome. 
"Five stars does not even begin to rate this incredible retreat. Elaine is one of a kind gem, who teaches from her heart. Her life travels give her a wealth of knowledge and experience. Her vibrant endless giving, personality and lifestyle is experienced throughout the retreat, both on and off the mat." – George
"Elaine's retreat was beyond any expectations! I learned things about myself during her guided meditations and reflections and also reached a level of calm and peace that is so hard to find in my normal day-to-day pace. Soaking up the Tuscan sunshine and culture was fantastic. Elaine puts a great deal of energy, effort and caring into ensuring the experience is a positive one, including lots of laughter." – Sheila
"The retreat was the perfect balance of an immersive yoga and cultural experience" – Tony
"I came to Tuscany stressed but I left a completely relaxed person. It's hard to put in words what this week has given me, no money could buy the feeling of peace and tranquility I now have" – Pat 
"Elaine by nature generates fun and laughter as a teacher and retreat leader, creating experiences and unforgettable memories for her students" – Julie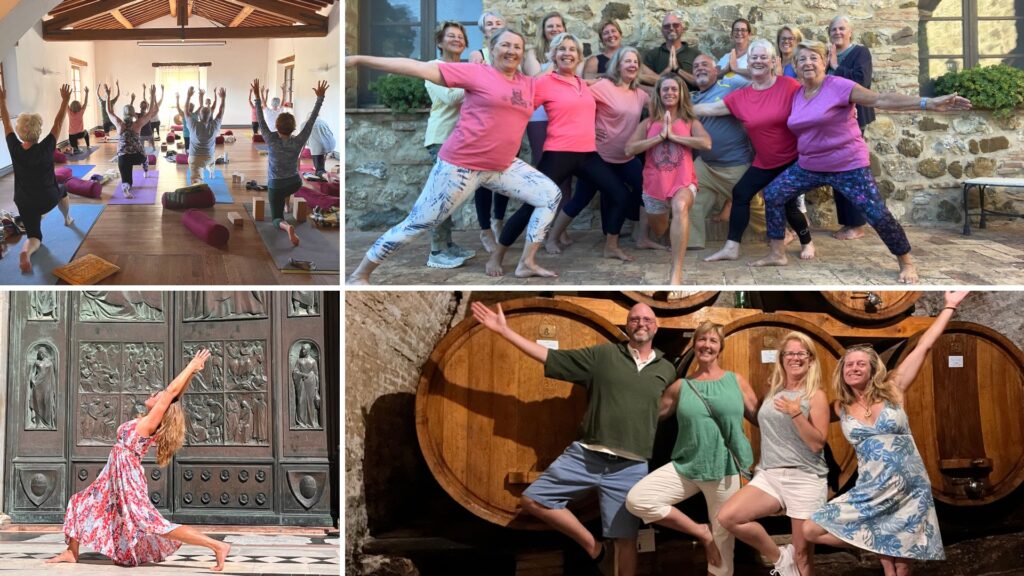 If you know me then you are aware that I love to laugh and have fun. So many friendships have been made on my retreats and I love building that sense of community.  
What is Included:
7 nights accommodation
2 meals daily (breakfast and dinner)
2 yoga classes daily (all-levels, variety of classes)
Use of the pool and all the property
Villa Gratuities
PRICES ARE PERSON, please sign up with the person you plan to share with. 
Accommodations:
The accommodations are in the eco friendly restored 12th century farmhouse which has a great history. Along with the main house there is a cottage, the newer Straw House rooms, the yoga studio and loft. All rooms are unique and charming, different sizes and layout. 
The Suite
This is in the main house is a large room with private terrace. Queen bed, supplementary single bed. En suite bathroom with bath and shower (ceiling is low over the bath). This is based on double occupancy. €2200 per person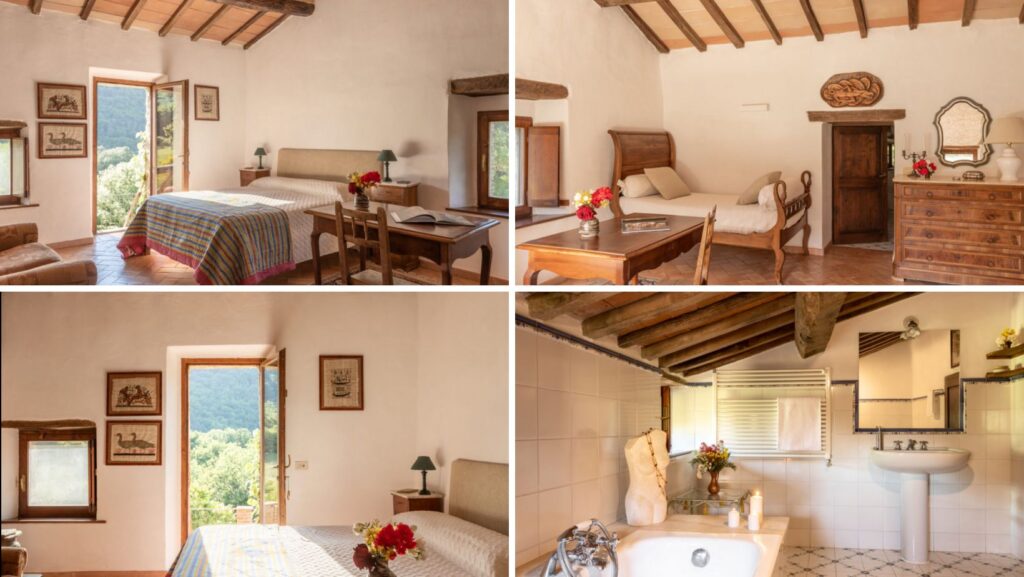 The Nonno's Room
Large room with a queen bed and a supplementary single bed. En suite bathroom with shower. Direct acces to gardens. Based on double occupancy. €2200 per person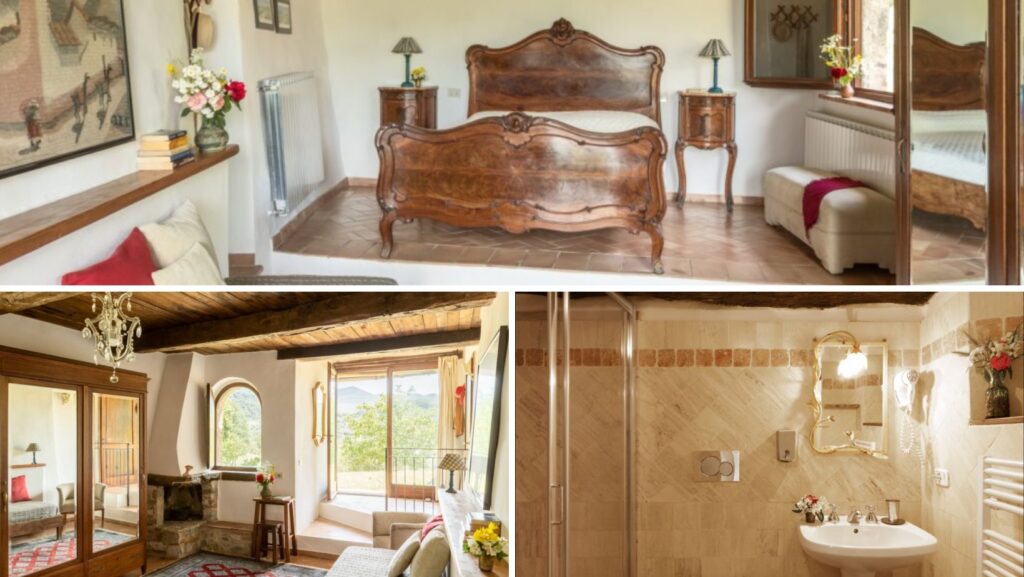 The Guests Room
Double bedroom with a queen bed, ensuite bathroom with shower and direct access to gardens. This is suitable for a couple or a single person. €2200 per person or €2450 as a single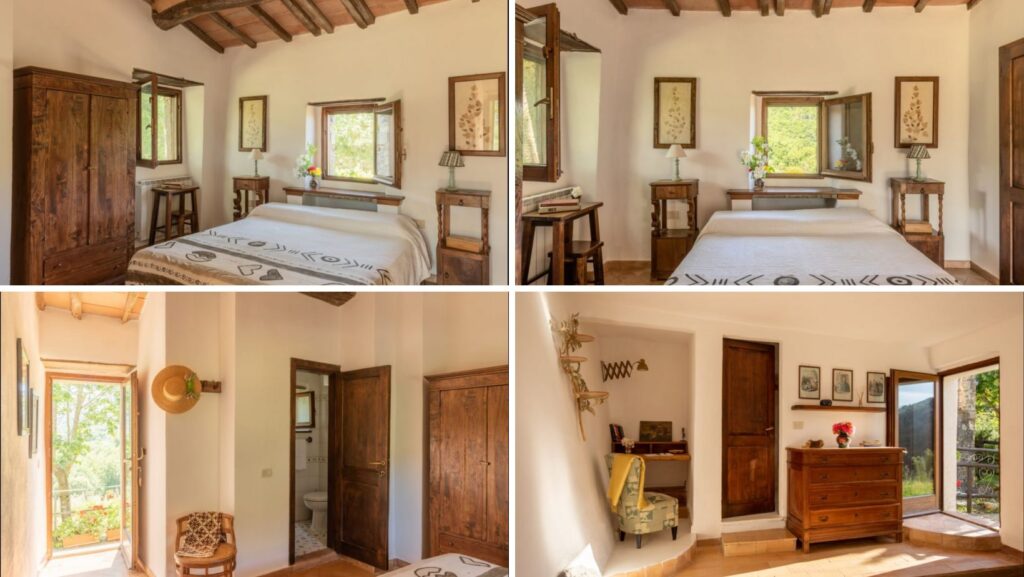 The Piccola and the French Room.  These are 2 single bedrooms with a shared bathroom in the main house. €2300 per person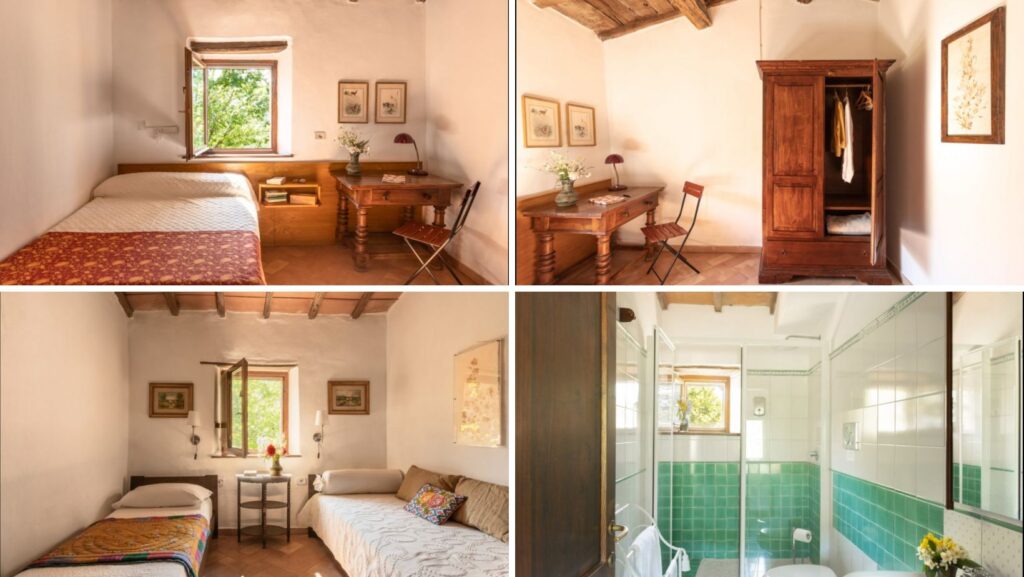 The Quad
Four single beds, ensuite bathroom with shower. Direct access to gardens. Price based on triple or quad occupancy. €1950 per person.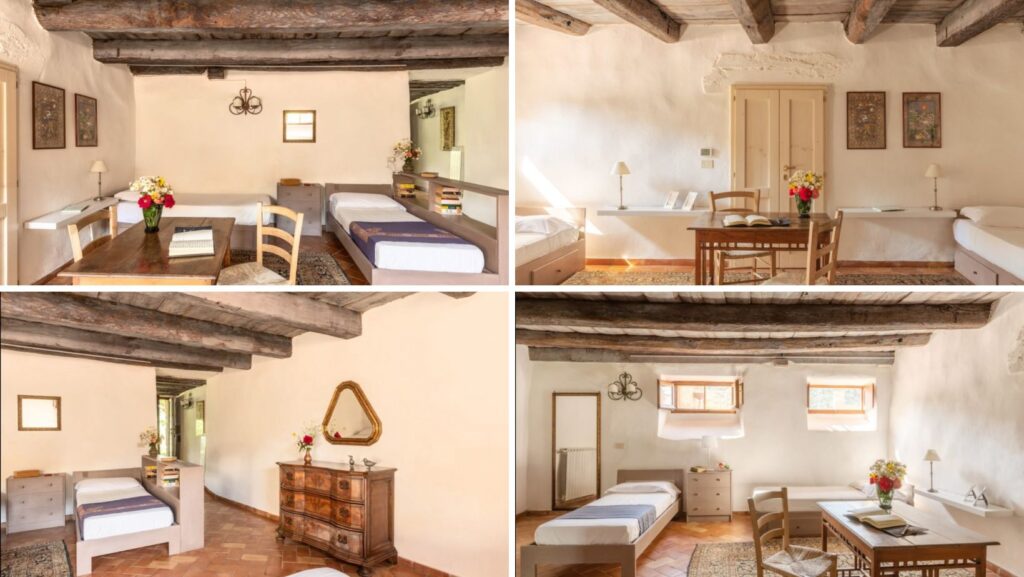 The Rock Room
Double bedroom with two single beds, ensuite bathroom with shower and direct access to gardens. This is suitable as a double room or as a single room. €2100 based on double occupancy per person. €2450 based on single occupancy.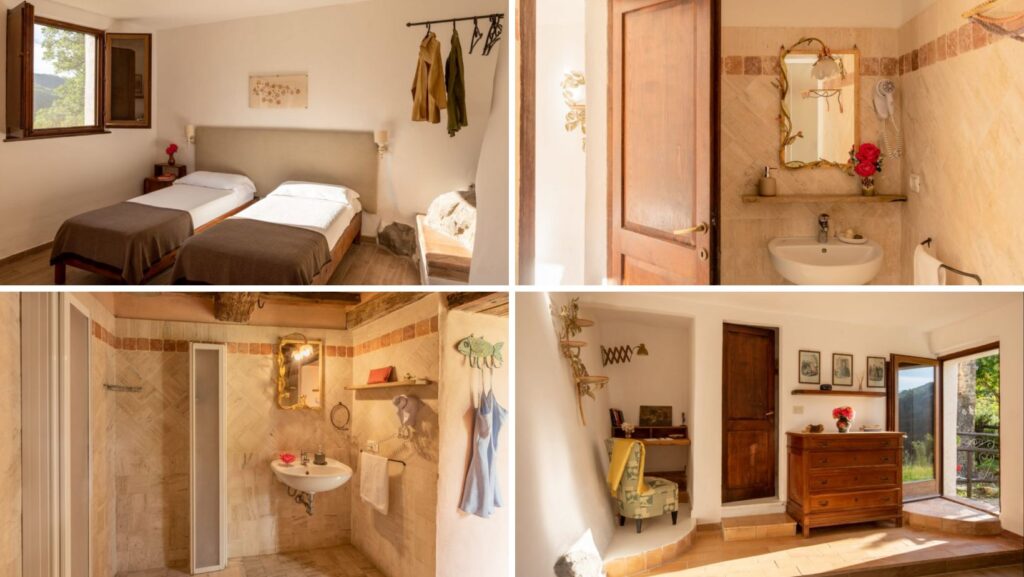 The Fienile/The Cottage
Dating back to 700 A.D., it was the first human settlement in the whole area, inhabited by a monk from the San Salvatore abbey.
The historical Fienile is now converted into a cottage with a private bathroom and a breathtaking view from the bedroom window.
It is a two story house with its own kitchenette and living room and single bed downstairs. Upstairs is a double bed, a single bed and bathroom. Ideal for 2-3 people. €2300 per person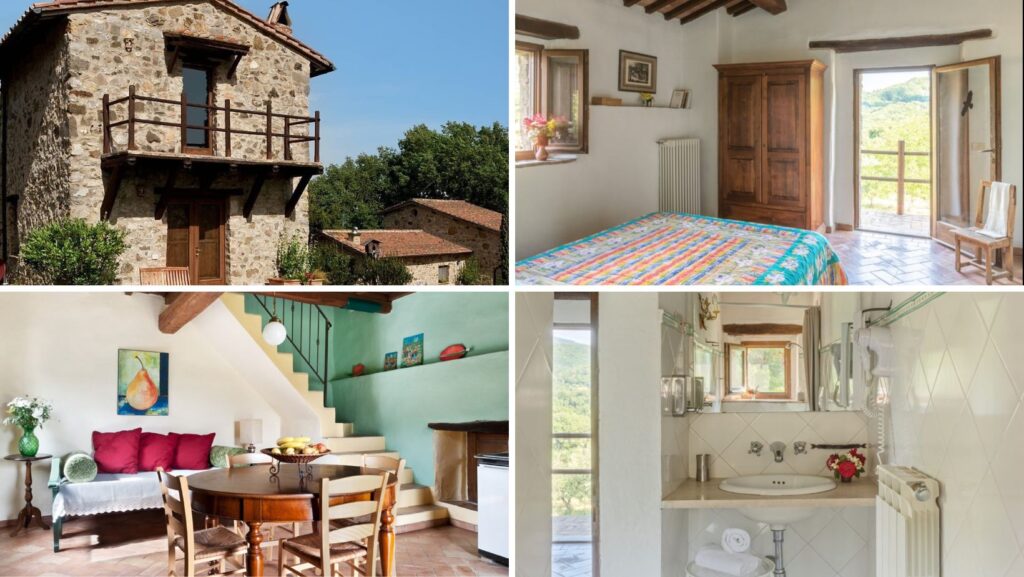 The Pagliatella (The Straw House)
It's the newest beauty here at Le Pianore. A completely eco-friendly straw house made of 100% natural materials. The two bedrooms overlook the olive groves, offering a view of the Villa and the gardens. The bedrooms are separate with a common area in between. Both rooms are based on double occupancy. €2200 per person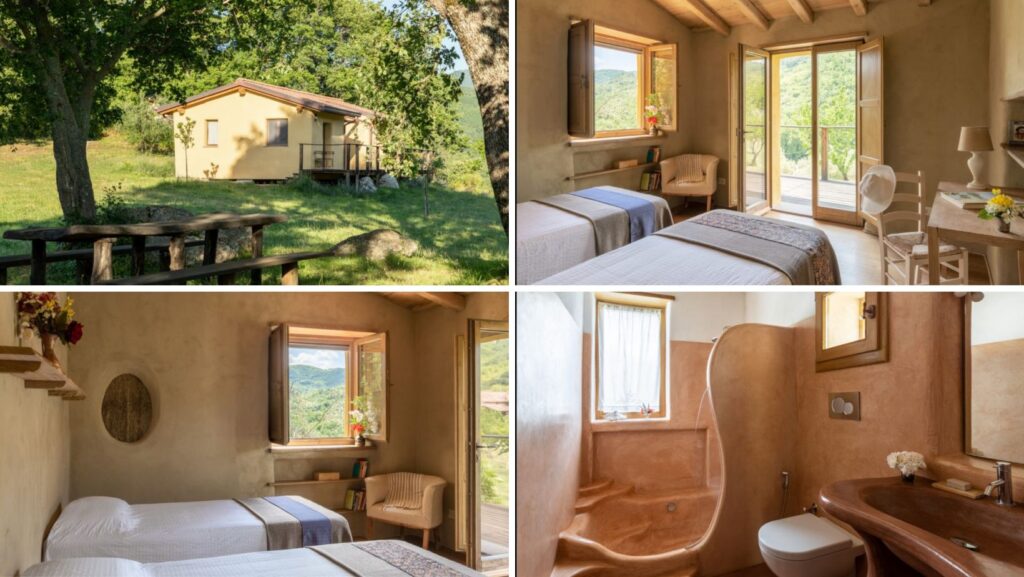 All yoga props (mats, blankets, bolsters, blocks, belts) are provided. We have a dedicated yoga studio and if weather permits an outdoor deck. There are 2 classes daily. Morning classes include meditation, pranayama and slow flow classes with strong emphasis on alignment. Afternoon practice is a more gentle and restoratative practice. I'm often asked "do I have to do all the yoga classes". The answer is "No". You just do what you feel like doing. This retreat is about experience both on and off the mat and honoring what you body and soul needs. On the arrival day there will be late afternoon practice, on departure day there will be a morning practice. There will be one evening with no practice after a full day of visiting hilltop towns.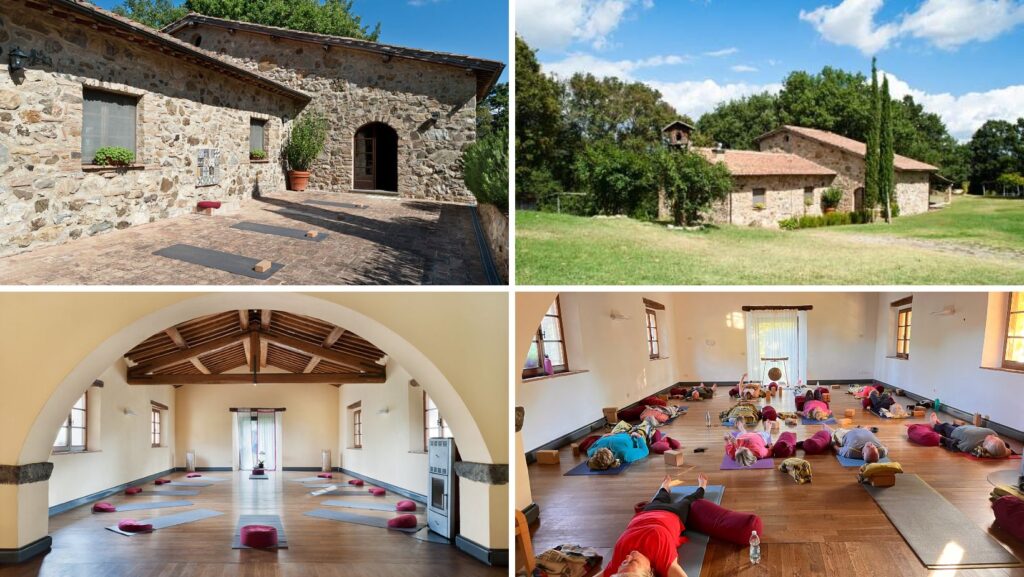 Extra Sample Options/Day Trips (not included in price):
I organize 2 separate day trips. These are full days. If you wish to do more exploration then I advise renting a car or I can organize transport for you but it needs to be done with plenty of advance notice. 
Day trip to Sienna

Day Trip to Montepulciano, La Pienza, and hot thermal baths

Cooking classes are available on site, these are excellent!

I will lead a hike to the hilltop town which overlooks the property and has stunning views (no cost). 

Wine tasting tours are available. We are also staying on a vineyard so you can explore that.
The price does not include airfares, transfers or excursions.  I will organize trips and transfers. Prices will depend on how many people are using the van shuttle. The villa is about 2.5 hrs from Rome. Group pickups can be arranged from the Airport. If you wish to do lots of independent exploration then I recommend hiring your own car.
PRICES ARE PERSON, please sign up with the person you plan to share with:
Quad room, sleeps 4, private bath: €1950
Double room, sleeps 2, private bath: €2100-2200
Private cottage, sleeps 2-3, private bath: €2300
Single room, shared bath with one other room:  €2300
Single room, private bath: €2450
If you are booking a double, triple or quad room then please sign up with the people you are sharing with.
All prices listed are in Euros. Payments in US $ will be subject to rate of exchange of date of payment.
PAYMENT SCHEDULE/TERMS & CONDITIONS
A €500 non-refundable registration fee is required to book and secure your spot and room choice.  
All Prices are Per Person in Euros. Payments in US $ will be subject to rate of exchange of date of payment.
Cancellation policy: €500 registration fee is non-refundable unless the retreat is cancelled due to unforeseen circumstances. Talk directly with Elaine about any concerns.
1st payment towards balance due December 1st 2022
Remaining payment due by Feb 15th 2023.
50% refund (except for the initial €500) up to Dec 15th 2022.
NO refunds after Dec 15th 2022. This is a strict policy. There are no refunds and no exceptions or any reason, including Covid, injury or any other illness. 
If you have sleeping issues such as snoring, insomnia etc then please sign up for one of the single option rooms.  
Contact Elaine directly to book your room and for payment methods and information. elaine@elaineorourke.com or call/text 978-325-0747