YOGA FOR OSTOMATES, CROHN's DISEASE, COLITIS (IBD/IBS)


This ONLINE VIRTUAL class series is adaptable for every-body, nurturing, slow-paced with plenty of modifications.  Suitable for anyone with an ostomy or IBD.
Learn how to modify poses depending where your ostomy is, surgery sites or how active IBD is
Enhance mobility and strength
Reap the benefits of restorative somatic practices
Learn soothing and powerful breathing exercises
Relax the entire body systems
Ease the many stresses from disease – physically, mentally and emotionally
Feel empowered through affirmations and  healing visualization,
Gain confidence and how to belong in you body
Be supported through this online community
24 hour replay to give flexibility to take the class at a time that works for you
How it works:
Weekly live 1 hour class via Zoom
24 Hour Replay access gives flexibility to take class at a time that works for you
Time for introductions and questions
Payment via Venmo or Paypal
Yoga for people with Ostomies, Crohn's 

disease and 

Colitis (IBD/IBS). Please contact Elaine directly for information about future Yoga series in 2021 or for individual yoga.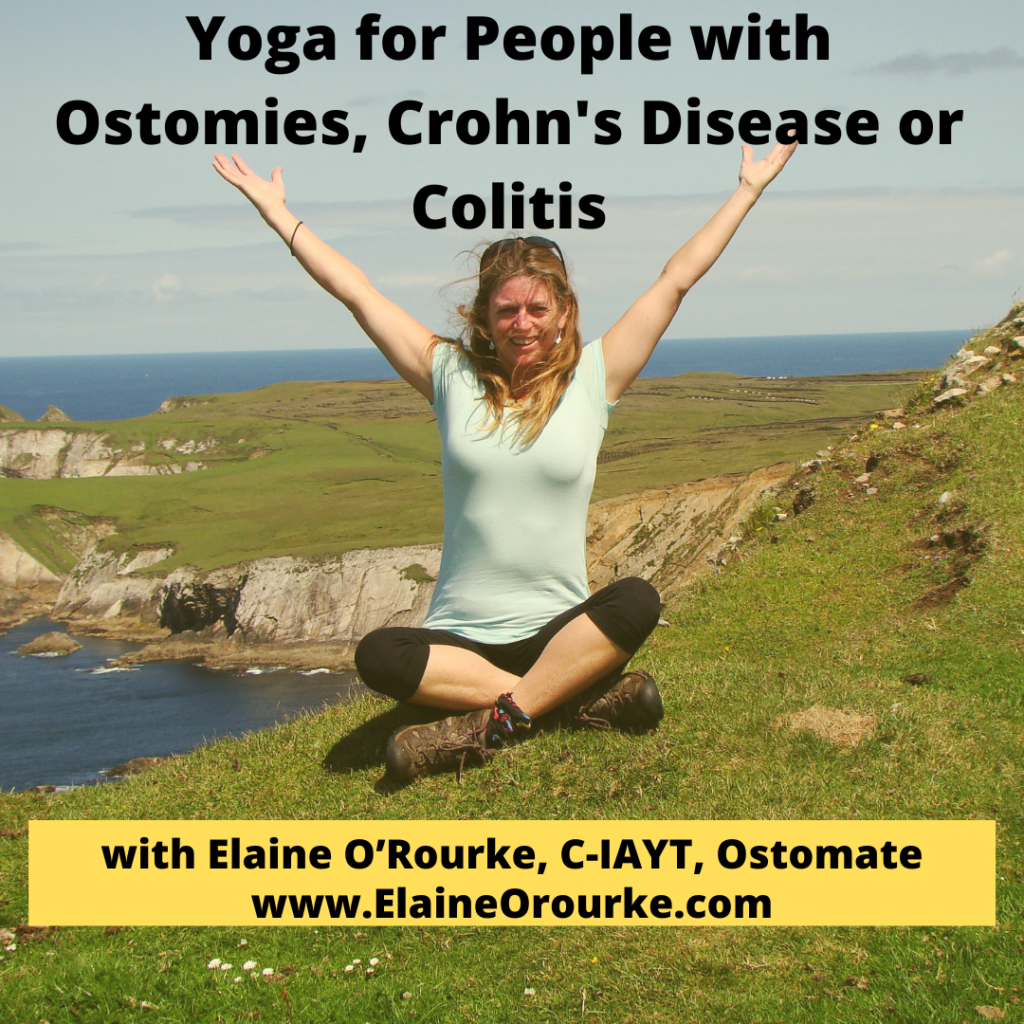 When: LIVE ZOOM YOGA classes TIME TBA
Replay zoom link is valid for 24 hours so you can do it at a time that works in your schedule.
Dates: TBA

Investment: Payment via Venmo/Paypal (if you need more options let me know).
Venmo: Venmo.com/Elaine-ORourke-2
PayPal: paypal.me/elaineorourke19
How it works: When you register for the series you will receive a link to that weeks yoga class.
Classes are via Zoom which is very easy to use.
If you are unable to join at the live time, then a link to the recording will be sent and available to view for 24 hours
Even though it's virtual, you still feel like you are in a supportive community. There will be time to chat before and after class on zoom.

If you are interested please email me directly to register and for more information. Elaine@elaineorourke.com
It is highly recommended to sign up for the 4 week class series. Single sessions are also available but you still need to sign up in advance. 
Please contact me if you want more information, have questions or to register. 
Grab your free guides:
 "3 Simple Ways to Eliminate Fears About Your Ostomy"
Make sure to "like and follow" me on social media. You can join me live on Tuesdays, 5pm EST or watch the replays.
YouTube: Elaine O'Rourke Yoga, Ostomy, IBD