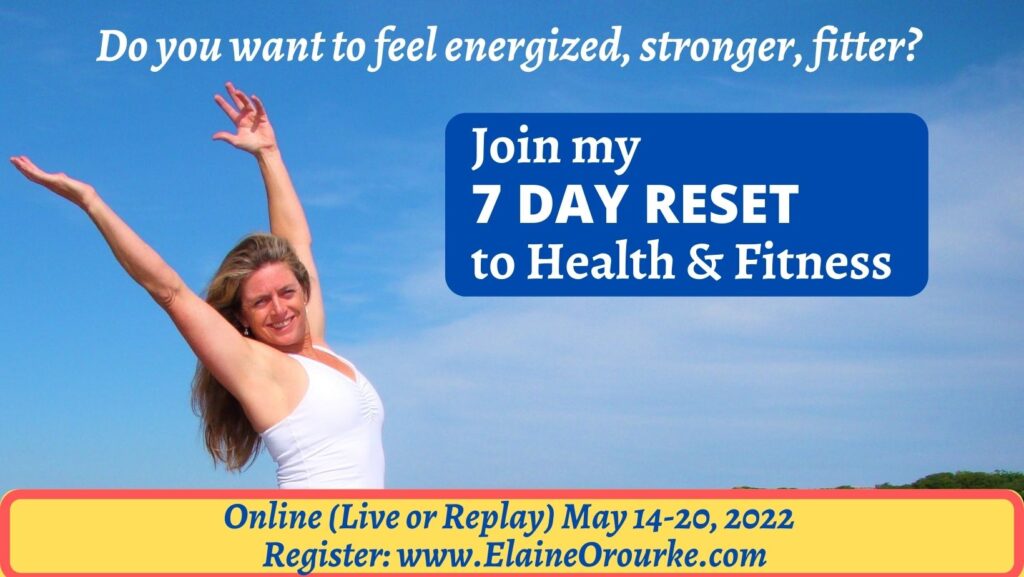 Do you wish to feel stronger and fitter? 
Do you want to create a healthier relationship with your body?
Do you need some motivation to jumpstart your health, fitness routine?
Do you want to feel more powerful?
JOIN ME FOR THE 7 DAY RESET for your HEALTH AND FITNESS

 May 14-20, 2022
Investment in your health & well-being is only $150 (see below for payment options)
 ***SAVE $50 when you get a friend/family member to sign up (person must be outside of my contact list)
Check out these testimonials, 7 Day Reset = Results:
" Your knowledge, experience, and optimism are a blessing. You've helped me get back on track with my health & well-being which I was neglecting.
I have always struggled with my breathing but your breathwork & guidance was so very helpful. I now focus on it throughout the day.
I have also regained some flexibility and endurance.
I loved being able to do it on the Replay as I have an irregular schedule. Thank you for this reset." – Carol N.
"The reset was fantastic. The classes were superb and I loved the variety of classes with the different modifications. It was so helpful to have Elaine guide us through reflection questions about our health and wellness too.  It was super to have the recordings as an option. I'm planning to do the next reset!" – Laura R.
How it works?
Attend either Live on Zoom or do the Replay at a time that works in your schedule.
Keeping active and healthy is always a priority for me and hence why I love my work and inspiring others to take charge of their health. I spent many years struggling with Crohn's disease, almost died, had major organs removed and have an ostomy.  I NEVER take my health for granted and a reason why I take good care of myself.
What's included?
Daily meditation, motivation, mindset, and reminders about healthy choices. Variety of Yoga, Fitness Training Workouts, Mediation, Breathwork.
Yoga is all-level slow flow and will include some weights.
Fitness training workouts will include warm-ups, core, cardio, weights, body resistance
Fit n Flow is a combination of yoga, cardio bursts and weights
There will be variations to help accommodate all levels. If you have any injuries please contact me beforehand to see if this is suitable for you or not.
SCHEDULE: Saturday May 14 – Friday May 20
Either join live OR receive the daily replay and do at a time that suits you
Day 1: 8-9.45am Yoga and Goal setting
Day 2: 9-10am Core, Restore & Breathwork
Day 3: 7-8am Fitness Training Workout
Day 4: 7-8am Yoga
Day 5: 7-8am Fitness Training Workout
Day 6: 7-8am Fit n Flow
Day 7: 7-8am Fitness Training Workout
What is needed?
Yoga Mat
Yoga Block, Belt, Blanket – if you don't have these then use something in your house that is comparable
Weights: 2 dumbbells of the same weight (your choice of weight depending your experience and level)
A smile 
For more information please email me directly.
I'M READY, YES SIGN ME UP!
How do I Register and Pay:
To register the full payment of $150 is required and your email.
If you do electronic payment please email me so I can make sure I have received it.
Please note this is non-refundable.
Venmo to: Elaine-Orourke-2 (in comments put "reset")
PayPal to: https://www.paypal.com/paypalme/elaineorourke19
Check: payable to Elaine O'Rourke, 72 Maplewood Ave, Gloucester, MA 01930
If you need to pay via another means please contact me.
SIGN ME UP!
"Elaine provides an effective and light-hearted approach to health and fitness in an holistic manner" 
Lets do this TOGETHER!