GOOD HARBOR BEACH YOGA 2023 SEASON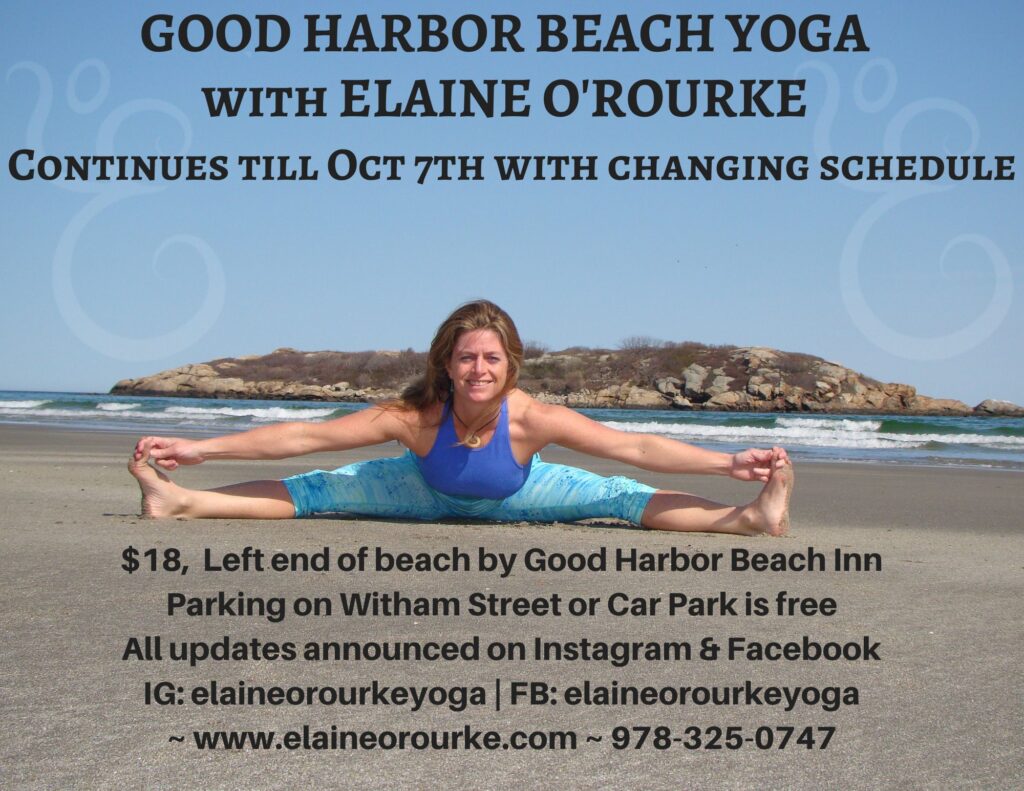 Beach Yoga continues till October 7th and schedule will adjusted according to the light.
No class Labor Day weekend or Labor Day Monday.  
Car park is free after Labor Day.
Last minute updates due to weather etc on Facebook & Instagram 
No class if raining. 
September Schedule – this Will be changing so always check social media 
Week September 4th: Tuesday, Wednesday, Fridays 7-8am, Saturday 8-9am
Week September 11th: Monday Evenings 6-7pm, Wed & Fri 7-8am, Saturday 8-9am
Week September 18th: Monday Evenings 5.30-6.30pm, Wed & Fri 7-8am, Saturday 8-9am
All-level flow
Questions? – Please email or DM via  Facebook & Instagram.
Payments via cash/check or venmo at beach. $18 drop in / $75 for 5 class pass. 
Please bring your own mat.
Left end of beach when looking at ocean by the Good Harbor Beach Inn.  Wear layers, only cancelled if raining.
Parking on Witham Street (unlikely that they will ticket before 9am though if you don't have a resident sticker).
 Updates are given on my Facebook page  & Instagram
Text Elaine with questions 978-325-0747 or email elaine@elaineorourke.com
Check back for updates as classes may be added or changed throughout the season.