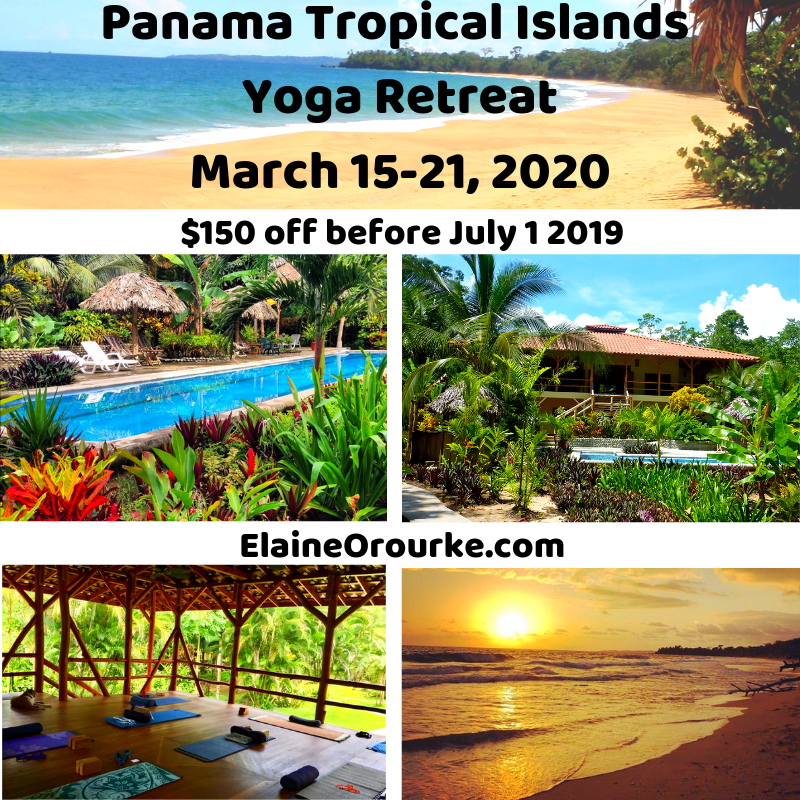 I'm thrilled to be returning to the stunning Bluff Beach Retreat location which will be our home for the week. It is set on 4 arces of lush land with its own farm and the magnificent 3 mile stretch of unspoilt bluff beach. It offers a completely laid-back vibe, eco-friendly, comfortable accommodations with a beautiful big porch, outdoor yoga deck and 65′ swimming pool.
Bocas del Toro is an archipelago or a group of islands on the Caribbean coast of Panama. There is something for everyone – the ocean lover and the hiker. Or, just grab a hammock, a good book and RELAX! The Sloths set the pace here with the reminder to SLOW DOWN! 
On the property they have bikes, snorkel gear, boogie boards and rubber boots for your use. Many activities are right outside the front door. Take the bikes down the road or into the lively colorful town of Bocas – bring snorkel gear to enjoy the pools of Playa Pristina and the Piscina. For the surfer, there are different breaks around the archipelago during Bocas del Toro surf season. Bluff Beach can be an experienced surfer's dream! Enjoy a long walk on this incredible beach but be aware that the current can be really strong with riptides. Isla Carenero is another great spot for water sports including SUP, kayak, surf, diving, snorkeling. 
Bocas is 20 mins by taxi. There are plenty of restaurants and bars. Its the hub for taxi boats to other islands which also boast lovely beaches.
The Horses of Bluff Beach Retreat are always happy to give you a lift to the Piscina. Take a hike to the farm for a visit with the horses and sheep or if you like to get dirty – you are welcome to pick up a brush and help out with the grooming.
Bluff beach a protected turtle nesting site. Beginning in March through September, different varies of turtles come to lay their eggs on the beach. The most impressive being the Giant Leatherback Turtle! 
**SAVE $150 when you register with deposit by July 1, 2019**
What is Included:
3 delicious meals per day

6 nights accommodation at the retreat house

Internal (domestic) flight from Panama city (Albrook Airport) to Isla Colon, Bocas (if you are traveling by other means to get to Bocas then your $200 will be subtracted from your total) 

All yoga classes (usually 2 per day except excursion days)

1 Snorkel Island Excursion

Transfers from Bocas airport to the retreat house (if you are on the group flight)

Tour of the farm

Gratuities at the Retreat House
What is NOT Included:
International flights to Panama

Alcoholic beverages

Any extra excursions

Transfers to or from airports in Panama city

Panama city accommodations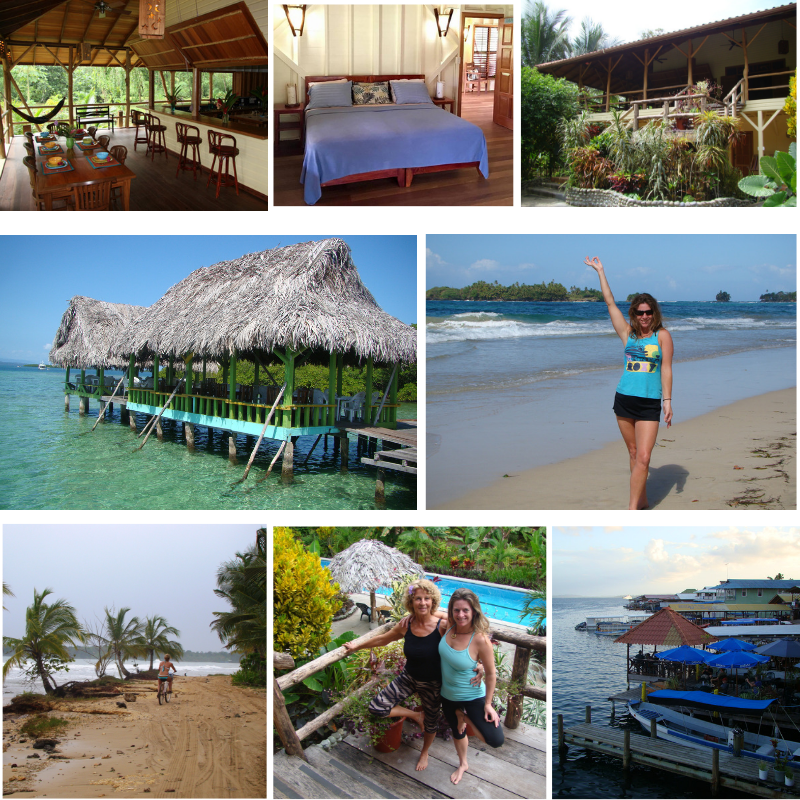 PRICING AND ACCOMMODATIONS – All room are ensuite:
Triple Room – $1,995 ($2,145 after July 1, 2019)

Double Room – $2,145 ($2,295 after July 1, 2019)

Single Room – $2,500 ($2,650 after July 1, 2019)
How to Register:
Please contact Elaine O'Rourke directly for booking information and payments.
elaine@elaineorourke.com or yogawaves@hotmail.com
$350 deposit (or €300 euro) is required (strictly non-refundable). Full payment is due October 1 2019 or 2 installments can be arranged (Oct 1 and January 1).
Early bird prices valid until July 1, 2019
All Prices are Per Person in USA Dollars. Payments in Euros will be subject to rate of exchange of date of payment.
Cancellation policy: $350 deposit (or €300 euro) is strictly non-refundable. 50% refund (except for the deposit) with cancellation before Jan 1 2020; no refunds after Jan 1 2020
Previous Retreat testimonials:
"What a spiritual blessing to spend a week with you and our group. Your yoga classes were fantastic and the entire retreat was so well organized. It was a great way to travel and have time to "tune in". I'm so grateful to you" – Sandi
"Being on retreat with Elaine is by far one of the best I've ever experienced over the past 15 years!!! As a yoga teacher, I appreciate Elaine's knowledge and all inclusive mind/body healing." – Marilyn
"Your retreats are so well planned and fun. I love how you incorporate silliness into your practice and teach us new ways to approach poses. You have a knack for suggesting minor adjustments to really get into different poses, even poses I think I know well!!!" – Julie
"Elaine led a great retreat. She is a wonderful teacher, combining deep expertise, much positive energy, variety, playfulness and fun into her practice. I feel renewed, refreshed and highly recommend her" – Chris
"The retreat was really well organized; the right balance of structure and flexibility within the schedule. Elaine employs the right mix of fun and seriousness; humor and professionalism, making each of us feel important and included" – Gwen