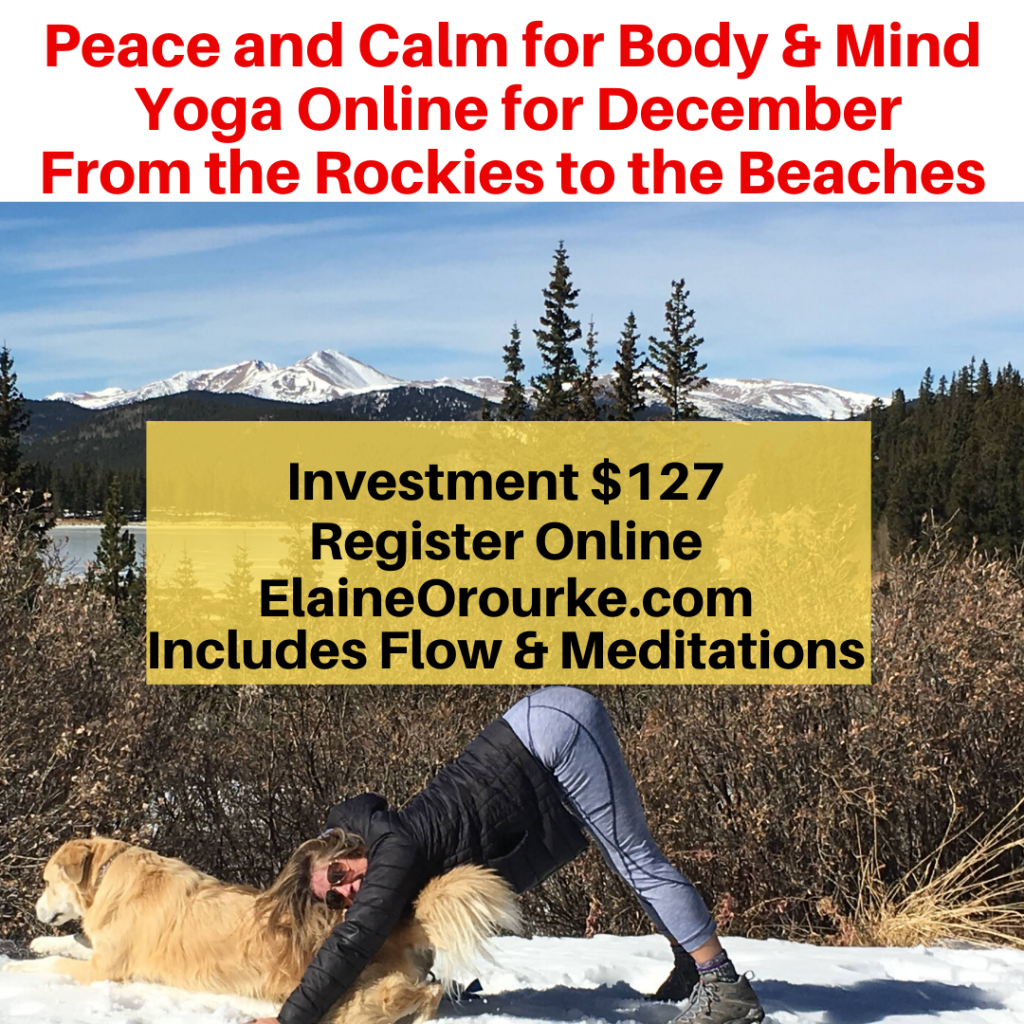 PEACE AND CALM for the HOLIDAYS
ONLINE YOGA & MEDITATIONS FOR MONTH OF DECEMBER 2019
Unlimited access for 31 days

Yoga classes from beautiful OUTDOOR locations from the Colorado Rocky Mountains to the shores around Cape Ann, MA. 

Heart centered Meditations from the Rocky Mountains

Classes vary in length to suit your schedule

Short bonus features 

Access is from December 1-31, 2019
I want you to SUCCEED. You can set your own challenge and let me know what it is. Then you can hold yourself accountable and send me emails when you've done your practice!!!
****Due to the outdoor sounds, there can be parts of some videos that are little hard to hear, but you have all the visual!***
INVESTMENT $127. YES PLEASE!!!
Here's what folks are saying from previous Online Offerings:
"Elaine's online yoga classes are a dream.  You can get the same light and loving guidance in your own home – at the best time – as you get in the studio or (best of all) on the beach.  I have tried many other online yoga programs and, although they are great, they don't compare with having the continuity of a home practice aligned with one's group practice.  Thanks for these, Elaine!" – Mary Tess
"Wow…Elaine's '7-day yoga challenge' was the perfect way to start the year!  Her online classes were easy to follow and it was great getting to do them in the comfort of my living room – and whenever it worked best for me each day!" – Karen M
" I truly mean it when I said this is the best. It was just what I needed to get back on my mat. Honestly I feel like I am with you at a live class. I have done other yoga stuff on line and didn't like it. You rock Elaine!" Betsy
"Doing this challenge has helped me prepare my body, mind, and soul for a successful New Year.  It is a resolution that I know I will complete.  I wake up each morning looking forward to what Elaine has planned for me.♥️" – Michele (side note: Michele completed the 7 day challenge twice!!!)
NOW I REALLY WANT TO DO THIS – PLEASE SIGN ME UP! 
Investment $127