Brac Island, Croatia Retreat June 1-8, 2024
Adventure to gorgeous Brac Island to experience authentic Croatian Island life. The Adriatic Sea is absolutely beautiful with most crystal clear azure water. Croatia boasts over a thousand islands and "Brac" is the largest island of the central Dalmatian group of islands, yet it still maintains a laid back vibe. 
Brac is home to the infamous "Zlatni Rat" beach in Bol, known as The Golden Horn. The highest point, "Vidova Gora", offers an unbeatable view of the Adriatic Sea and other nearby islands such as Hvar and Vis.  Brac is conveniently just an hour ferry ride from beautiful city of Split (which you can fly into).
After visiting Croatia a few times I know why it's referred to as "The Jewel of the Adriatic".  The scenery is wonderful with dramatic coastlines, medieval towns and of course the "Game of Thrones" backdrops.  The sea is just fabulous for swimming in or perfect for those that like to SUP.
The venue is a private luxury water-front villa with private chef creating delicious food all week.
Our day trips will include visiting reknowned "Zlatni Rat" beach and the town of Bol. Also a day of island hopping via private boat to Hvar, Vis, Pakleni islands with snorkeling opportunities.
Other optional activities can include hiking the highest point "Vidova Gora", renting bikes and exploring, Olive Tasting, SUP, and of course I will be guiding you through lots of amazing yoga every day. 
Private Retreat Villa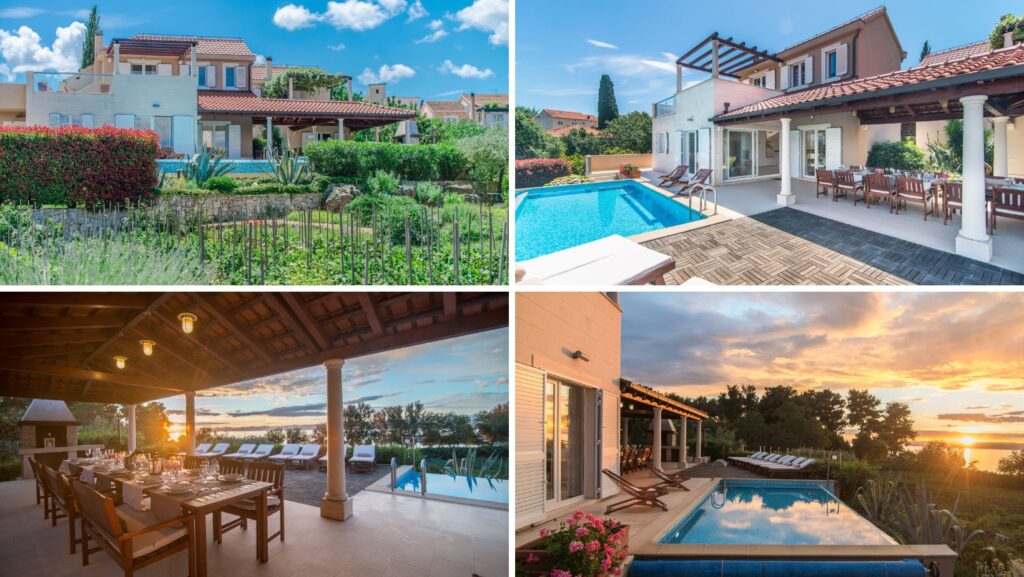 Our home for the week is a Private Waterfront Luxury Villa.  It is located in the small village of Mirca, just 4km from Supetar. Supetar is the main town and port on the island. Ferries run between Split and Supetar.
The Villa features over 320 m² of interior decorated with designed furniture and a spacious outdoor areas offering fabulous views of the sea and mainland. It is surrounded with gardens and has direct access to a pretty pebble beach (public).
We have full use of the Villa including:
private 24m2 heated infinity swimming pool

Jacuzzi whirlpool spa for 6

roofed sea view terrace with large dining table

sea view sundeck with sun loungers

free gated parking for 4 cars

big lawn and terrace with ping pong table

access to beach
Yoga practice
Yoga will be outside, enjoying the ocean views (in case of rain we will practice indoors). All yoga mats and props are included
Meals
A private Croatian chef will prepare our meals. Breakfast and dinners are included (except for 1 evening out). Food will be mostly vegetarian and can cater to any dietary restrictions.
What folks have to say about my retreats:
"I've been on 3 retreats with Elaine. They are fun, enlightening, great exercise and in beautiful places. Her retreats have become a core component to my health and well-being. The benefits of the consecutive days of skillfully designed classes are amazing and help immensely with my asthma and my posture.  I leave feeling so relaxed and more connected with myself. Thank you." – Sheila 
"Elaine curated an amazing experience  that I will remember for years to come!  Yoga, massage, hiking, exploring and so much more.  I highly recommend going on retreat with her." – D.T.
"Elaine's yoga retreats are magic!! Her attention to detail ensures that your trip is well planned and you will have opportunity to do as much or as little as you chose. Delicious food, practice yoga daily, feel culturally immersed….Elaine provides a warm safe environment for you to reconnect with you! I highly recommend her retreats. " Christine 
"Thank you very much for organising everything so well, for all your attention to detail & for looking after us so well. The yoga classes were so very enjoyable and your ability to cater for all levels. You make us all feel so inclusive, thank you." – Angela
Accommodation/Bedrooms –
Space is limited on this retreat. All rooms are based on double occupancy, except for 1 room which can be a single.
Master Bedroom Suite: King or 2 Twins, and Sofa Bed which can be a 3rd bed. Good for 2 or 3 people sharing. Private bathroom with massage bathtub and large shower. Sea views and access to the big rooftop terrace. Upper level of main villa.
Price per person based on 3 people sharing: €2140
Price per person based on 2 people sharing: €2440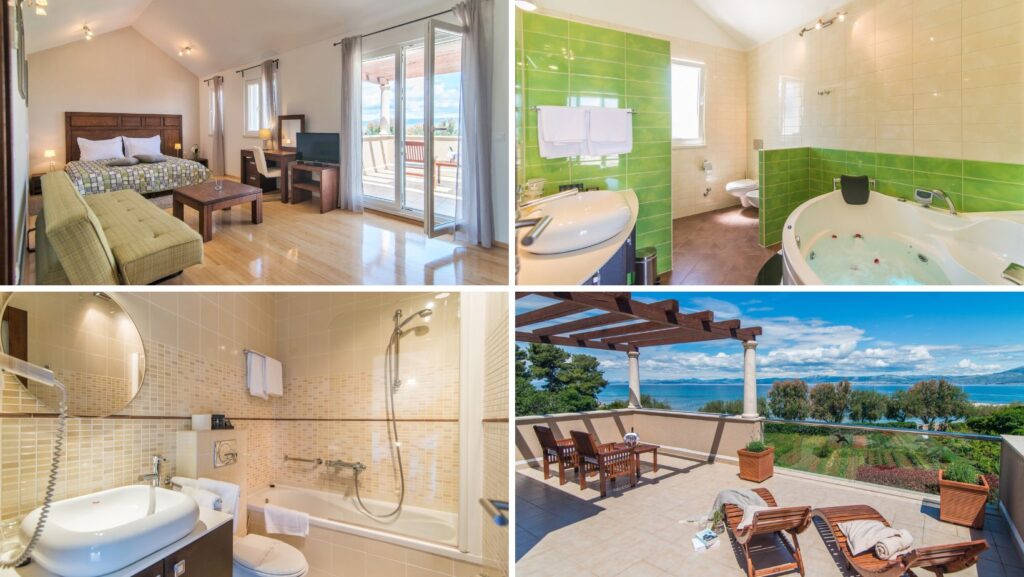 BEDROOM 1:  Large room with 2 singles or 1 king (for 2 people sharing). Small sofa bed. Garden Terrace Patio and Private Bathroom on ground level of main villa.
Price per person based on 2 people sharing: €2260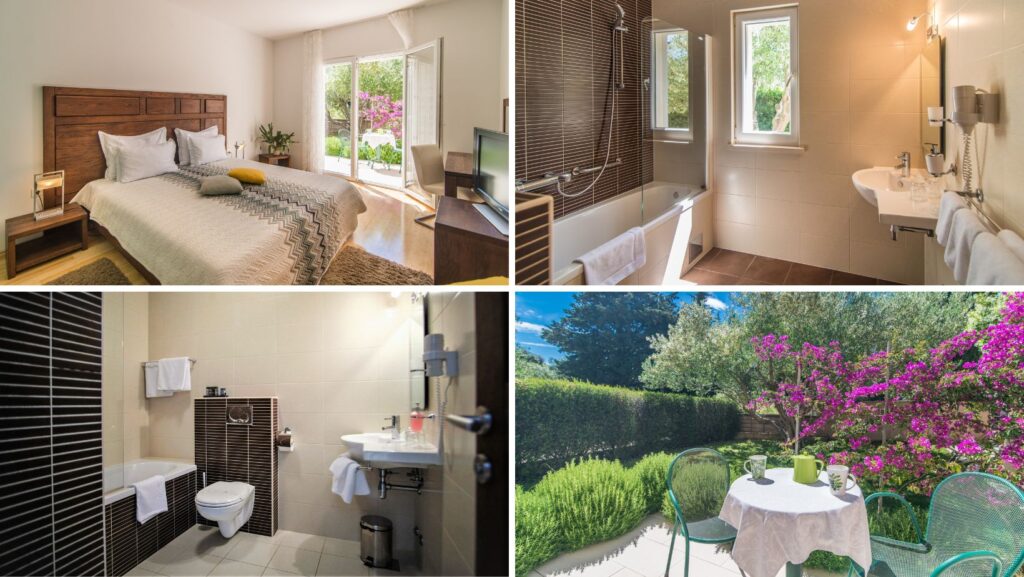 BEDROOM 2:  2 singles or 1 King (for 2 people sharing). Private Bathroom on Ground Level Main Villa facing onto garden.
Price per person based on 2 people sharing: €2260

BEDROOM 3:  1 double bed (good for couple or single person). Private Bathroom. Small Terrace with SeaView on Ground Level Main Villa
Price per person based on 2 people sharing: €2260
Price as single person: €2860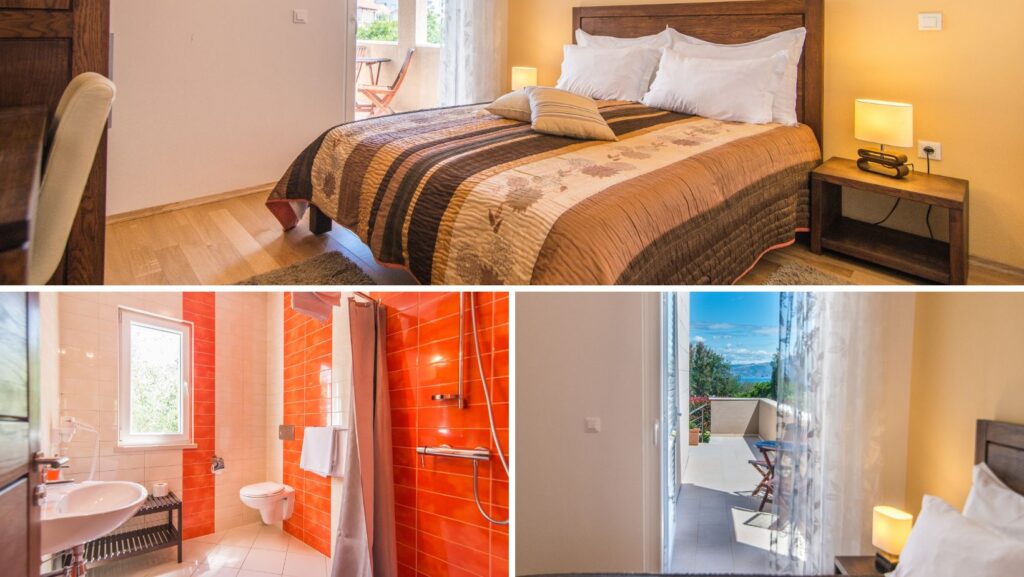 BEDROOM 5:  2 singles or 1 King (for 2 people sharing). Private Bathroom with private Sea views and private terrace. Upper level of the annex which is attached to main villa
Price per person based on 2 people sharing: €2260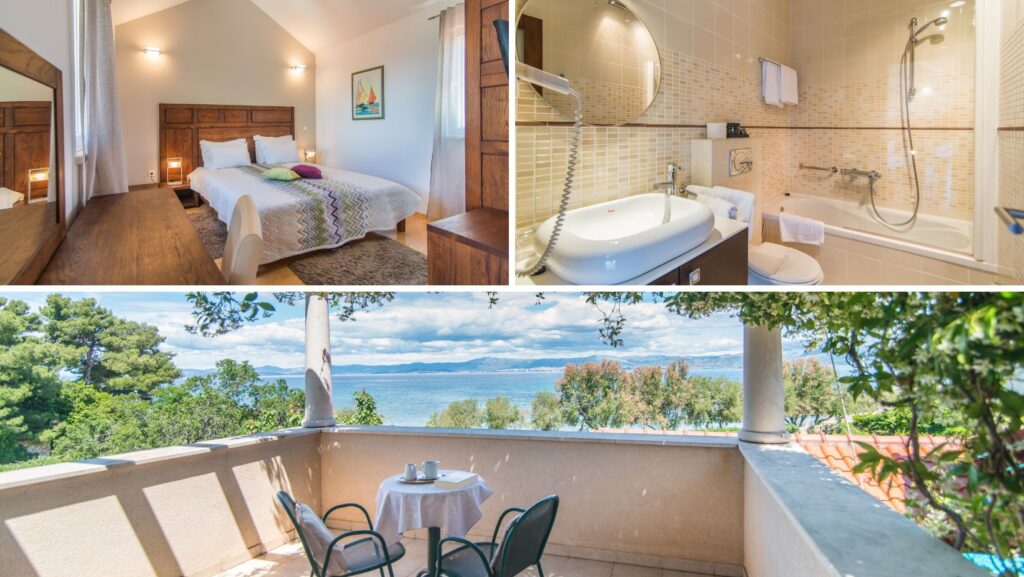 BEDROOM 6: 2 singles or 1 King (for 2 people sharing). Private Bathroom with shower next to the room (not in the room), french door towards the main terrace, fireplace. On ground floor of the annex which is attached to main villa
Price per person based on 2 people sharing: €2260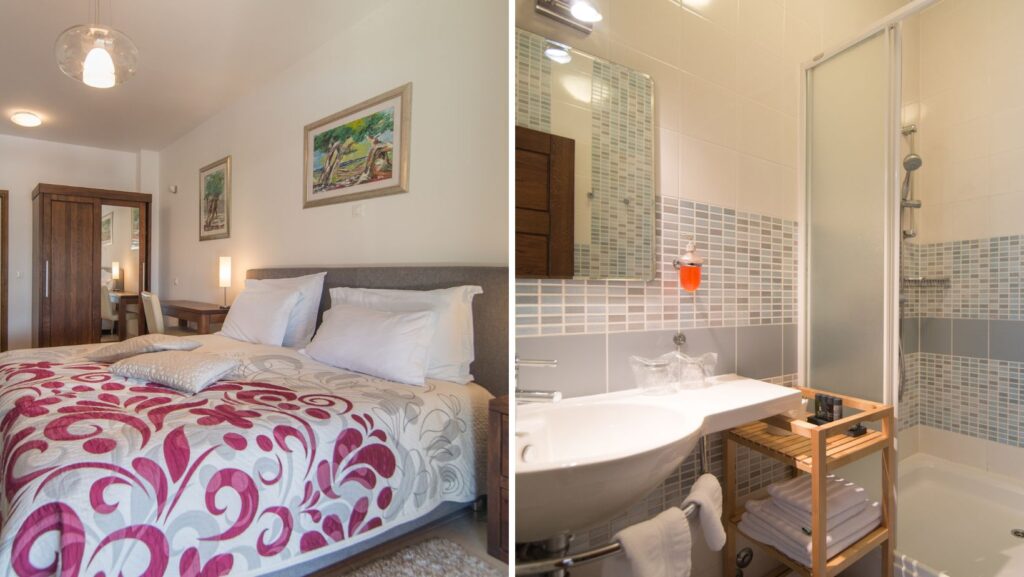 Retreat Includes:
7 nights accommodation at safe and secure private villa with exclusive use of the property including the pool

2 delicious, mostly vegetarian meals daily (except for one evening meal),  tea/coffee

2 daily all-level yoga classes. Morning class includes meditation, pranayama, all-level flow, mantras. Evening class is gentle and restorative. 

Transfer to and from Supetar port (Brac) to Villa

Day Trip transportation to Bol,  Zlatni Rat Beach via "Vidova Gora" mountain

Private boat trip to explore Hvar, Vis and Pakleni  islands. 
Does not include:
Flights, ground transportation from (except from Supetar port to and from Villa), one evening meal out, body treatments such as massage, reiki, and beverages, any other day trips.
Extra Sample Excursions not included but can be arranged:
Hike to top of "Vidova Gora" mountain

Split 

SUP rentals

Bike rentals

Wine & Olive Tours
PAYMENT SCHEDULE/TERMS & CONDITIONS
A €850 non-refundable registration fee is required to book and secure your spot and room choice.  
All Prices are Per Person in Euros. Payments in US $ will be subject to rate of exchange of date of payment.
Cancellation policy: €850 registration fee is non-refundable unless the retreat is cancelled due to unforeseen circumstances. Talk directly with Elaine about any concerns.
1st payment towards balance due December 1st 2023
Remaining payment due by Feb 15th 2024.
Once payments are made they are non-refundable.
NO refunds after Dec 1st 2023. This is a strict policy. There are no refunds and no exceptions or any reason, including Covid, injury or any other illness.
If for some reason you need to cancel, you may be able to transfer your spot to someone else. However, the new person will need to pay a new registration fee. Any changes need to be approved by Elaine. If you signed up with someone to share a room, then your roommate needs to be ok with any change.
TRAVEL ARRANGEMENTS
You need to book your own flights to Split Airport and go to Split Port. Arriving on June 1st before noon to give enough time to get to the port and to catch ferry. You may wish to arrive in advance to explore Split.
Ferries go from Split Port to Supetar Port in Brac.  
The Shuttle pickup will be at Supetar in Brac at approximately 3.30pm on June 1st.  If you arrive later then transportation to the villa will be arranged for extra cost.
Retreat ends on June 8th. Give yourself enough time to get the ferry and transportation back to Split airport. I recommend booking flights after 1pm.  
A shuttle van will drop you to Supetar at 9am approximately. Earlier transportation can be arranged for extra cost.
A Ferry Timetable will be provided  once the 2024 schedule is available.
If you have time I would also suggest visiting Dubrovnik which is a wonderful city, steeped in history.  There are ferries that go from Brac to Dubrovnik also. It's approximately 4 hours. Or you can take a bus from Split to Dubrovnik. There are more flight options to and from Dubrovnik.
What to Expect on a Yoga Retreat?
A yoga retreat is the perfect combination of traveling without the hassle of figuring out all the logistics. This retreat is at a private water front villa in the small village or Mirca, and about 4km from Supetar which is the main town. The property has its own gardens and private path to the pebble beach.
Everything on retreat is optional (even the yoga). You decide how much you wish to participate. But there is the healthy focus for your mind and body with daily practice offerings. It is a super opportunity to delve deeper into your yoga practice and to understanding yoga and meditation on a different level and ways to incorporate it into your everyday life.
Times of classes may change depending on the group and activities.  Breakfast and dinners are included except for one evening meal. This gives you the opportunity to sample other food on day trips or visit local restaurants. Alcohol is permitted but respectful consumption and behavior is required. 
Enjoy free time to relax when we are not doing trips. Massage and energy healing sessions can be booked.
Aside from yoga practice which is guided by Elaine, participants are responsible for what they do with their free time.  
Who is it suitable for?
Single travelers, friends, couples are all welcome. If you are a go-with-the-flow type of person who has a good sense of humor, is up for a bit of adventure then this retreat should be a good fit. If you want to have a unique experience, be open to new experiences then sign up!
However, if you know you are high maintainence, if you need someone to do things for you all the time, if you are use to staying at hotels, resorts, high end places, then this most likely is not the trip for you!