Finding Joy Moments with an Ostomy or IBD
Finding Moments of Joy with an Ostomy or IBD
by Elaine O'Rourke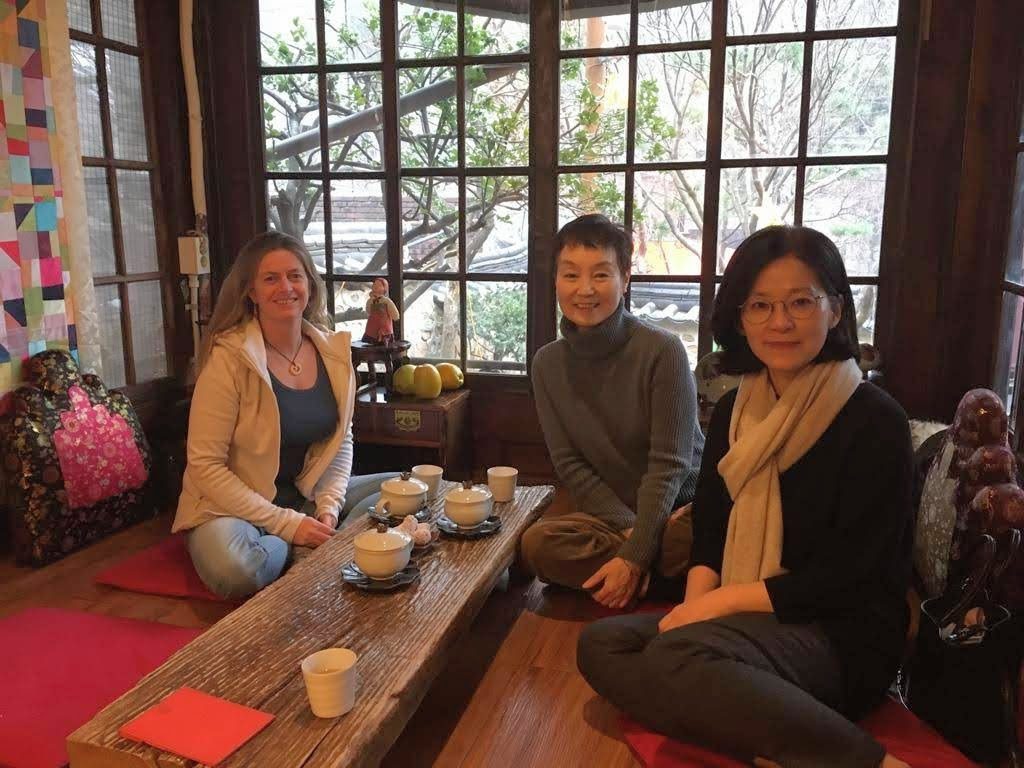 Finding the joy while running to the bathroom all the time, emptying your ostomy bag or dealing with leaks might seem like a far fetched idea. But, in between times you DO have an opportunity to reset and find some peace, fun and joy. It doesn't have to be a wild night out, as that will probably leave you feeling completely depleted.
While I was in Korea visiting my unconscious uncle in ICU every day, these amazing women took care of me. This picture is from a traditional Korean tea house where I had the most delicious tea EVER, made from dates. It was a joyous afternoon within a very sad trip.
How can you create simple ways to find more "joy moments"?
Here are some ideas:
1. Close your eyes for a minute and reflect on a memory that was fun. I use to do this when I was really sick and relive my travel adventures. It always made me smile and helped me connect with joy between all the pain I was experiencing.
2. Whether you are sitting inside or outside on a sunny day (even if its a frigid winters day), face the sun, and stand/sit in it for a few minutes. Not only are you getting some valuable Vitamin D if you are outdoors which many people are deficient in, but it just feels good. If its not too cold, I will even do this on my winter beach walks.
3. Try something different. Is there a class you've been wanting to attend, an online course, a hobby you want to do…Make it happen!
4. Make an effort to meet up with people. Connection is key but so many people are living isolated lives. When you are sick and trying to figure out life with an ostomy, it can lead to further isolation. Even a few words with the grocery store check-out person, or saying hello to a stranger and asking them how their day is going is beneficial.
I'd love to hear some of your Joy Moments…
Make sure to grab one of my FREE GUIDES:
"3 simple ways to eliminate fears about your ostomy" via www.ElaineOrourke.com/ostomyprograms/
OR
"Hidden Causes: 5 mistakes even well informed people with IBD make, that can be adding to their GI stress symptoms…and what to do instead" via www.ElaineOrourke.com/IBDprograms/
In case you missed my blog on Ostomy Self-Care and Wellness Tips then just click here.
Elaine O'Rourke is the creator of the programs "Surviving To Thriving: Overcoming Ostomy Challenges So You Can Live a FulFilling Life" and "Your Inside Story: Living a Vibrant Life with IBD". She is a certified Yoga Therapist & Teacher since 2003, Sound Healer, EFT & Reiki Practitioner, Recording Artist and International Retreat Leader. Her lighthearted and fun personality shines through her teachings/programs as she loves to inspire others. She is a contributing writer to the national Phoenix Magazine and UOAA, presenter at the UOAA National Conference and speaker at Girls with Guts retreat.
Facebook: https://www.facebook.com/ostomyibdlife/
Instagram: https://www.instagram.com/elaineorourkeyoga/
Email: Elaine@ElaineOrourke.com